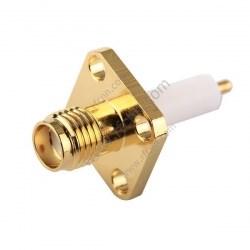 We are excited to launch the promotion. Every customer here is treated like a VIP.
(PRWEB) October 07, 2013
RFcnn.com finds 95% of its customers are satisfied with its RF connector products and services. Recently, the company has launched a special offer on all its SMA RF connectors, up to 30% off. According to a sales manager of the company, the promotion is valid until Oct. 15, 2013.
RFcnn.com is a well-known RF connector manufacturer and supplier. The company has much experience in the industry. Many RF connectors in the current market are too expensive to satisfy customers' requirements on a large scale, or don't easily work well with other components. RFcnn.com strives to save the customers valuable time by offering them premium quality RF connectors at possible lowest prices.
"We are excited to launch the promotion. Every customer here is treated like a VIP. Customer service is always our priority and we are improving our products and services to a higher level. Please visit our website and check the great selection of RF connectors at our website," says, the CEO of the company.
Now, customers can call in to speak to a sales representative. Emergency support is here available 24×7 as well through the online customer support portal at RFcnn.com. The staff at RFcnn.com is professional, friendly, and really knowledgeable about their products. Every question will be answered professionally.
In addition, other connectors from RFcnn.com (N RF connectors, SMB RF connectors, Mini Balun IDC connectors, SMC RF connectors and more) are also offered with similar discounts.
About RFcnn.com
RFcnn.com is an online outlet of Zhenjiang Fourstar Electronics Co. LTD, which is a China based company that aims to provide customers high quality RF connectors at the lowest possible prices. Customers can try the company's products through sample orders with a long-term contract. Most the customers will come back soon after their first deals.
More details about the company's high quality RF connectors can be found at http://www.rfcnn.com/SMA-RF-Connector.html