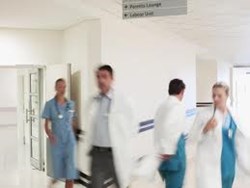 I had three admissions into hospital due to a cardiac problem, so if I get chest pain I have to ignore it because I have to go to work
Bolton, UK (PRWEB UK) 9 October 2013
Due to the excessive working culture of the NHS, it has been suggested that unnecessary pressure is being put on nurses, jeopardising the standard of care given to patients, in turn, increasing the threat of medical errors (1).
According to The Guardian, a survey directed by the Royal College of Nursing (RCN) has indicated that four out five nurses (of the 2000 questioned), consider the absence policies in place to be too retributory. This meant that they felt pressured to attend work, even when they were feeling un-well (1).
Commenting on the survey, Suzanne Yates from medical negligence solicitors, Asons, said:
"The claims made in this report highlight how over stretched and underfunded the NHS has become. Nurses cannot be expected to work such long hours, under excessive pressure, and still be able to provide a high level of health care to their patients; especially when their health is being so seriously affected.
"If a nurse is unwell, adequate cover should be organised, minimising the risk of medical errors being inflicted onto patients"
The RCN have explicitly stated, that if nurses insist on attending the workplace when they are feeling unwell, then patient safety will be in danger, and medical negligence will become more prevalent (1).
Considering the survey, one response particularly typifies the mounting pressure being forced on nurses:
"I've been told that if I don't meet the 100% attendance at work I will be up for a capability hearing. I had three admissions into hospital due to a cardiac problem, so if I get chest pain I have to ignore it because I have to go to work." (1)
Further commenting, Suzanne Yates said:
"Working for a medical negligence firm of solicitors, we have seen many terrifying examples of how physical and emotional damage can be caused, when medical staff fail to adequately fulfil their job role.
This is often not a reflection of their own personal shortcomings, but instead the result of poor treatment from the NHS itself. The amount of medical negligence claims being filed will never decrease, if hospital bosses continue to put pressure on their staff."
Receiving substandard treatment whilst in the care of an NHS Trust can be seen as a form of clinical negligence. In such an event, clinical error compensation may be awarded to pay damages for any injury or suffering caused. To find out more information on making a claim, or to speak to a medical negligence solicitor, visit http://www.asons.co.uk or phone 01204 521 133.
(1) The Guardian, Stress on nurses putting patients at risk, warns RCN, 30/09/2013
theguardian.com/society/2013/sep/30/stress-nurses-patients-risk-rcn

About Asons Solicitors:
Asons Solicitors is a Bolton-based law practice that specialises in personal injury and industrial disease claims. Founded by brothers Imran Akram and Kamran Akram, Asons Solicitors has developed to become a young and dynamic law firm that delivers practical solutions to clients in times of difficulty. Their continued focus on their staff has seen them awarded with the Investors in People "Gold Award"; which is reflected in the professional and personable approach they take in working with clients. They strive to grow and to develop, and their supportiveness and attention to detail ensures that their clients use them time and again.
For further information contact:
Email: info(at)asons(dot)co.uk
Website: http://www.asons.co.uk