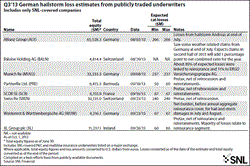 Destruction from the third-quarter hailstorms should not be downplayed.
London, United Kingdom (PRWEB) October 08, 2013
Based on estimates that have emerged so far, a series of hailstorms in Germany was one of the major loss-producing events for insurers and reinsurers in the third quarter. But while it was a destructive event, the insured losses look manageable when measured against the equity buffers of the underwriters.
Allianz Group and Munich Re, for instance, have each released estimates, and in both cases the losses account for less than 1% of each company's total equity as of June 30. Another German insurer, Wüstenrot & Württembergische AG, had a slightly higher percentage, at about 1.6%, but that is also relatively low when compared to other periods.
In the first quarter of 2011 — one of the more extreme quarters in recent memory — insurers felt the impact of three massive events: floods in Australia and earthquakes in Japan and New Zealand. During that period, French insurer SCOR SE recorded $502.5 million in natural catastrophe claims, according to SNL data, which comprised about 8.6% of its equity as of Dec. 31, 2010.
Destruction from the third-quarter hailstorms should not be downplayed, however. Cat modeling firm AIR Worldwide estimated that the July storms caused damages of up to $2 billion, according to an Aug. 26 article in Insurance Journal.
Germany produced losses for insurers in the second quarter as well, when flooding in the region caused billions of euros in damage. For that event, AIR issued an estimate June 19 pegging insured losses in Germany at €4 billion to €5.8 billion.
Several NASDAQ- and NYSE-traded reinsurers took losses on those floods, according to SNL data. Validus Holdings Ltd., for example, recorded $77.6 million in net losses from European floods, net of reinsurance but before reinstatement premiums.
There were other large loss events during the second quarter. AXIS Capital Holdings Ltd.'s total cat loss figure for the quarter of $140 million came primarily from U.S. hailstorms and tornadoes, but flooding in Europe, Canada and Argentina also contributed to the total.
The second-quarter European flood losses added to the 2013 cat loss budgets of several European-exchange-traded insurers as well. Of the companies under SNL's coverage, SCOR appears to have a particularly high amount of natural catastrophe claims in relation to its total equity as of Dec. 31, 2012. Through the first six months, SCOR saw €147 million in cat losses, with €80 million from the floods in Europe.
The combination of the flooding and hail events have, in turn, helped to drive rate increases in Germany, based on commentary from Hannover Re made during an industry conference in early September. "We have seen a rate increase in the motor business of about 6% [on 2012], and when you add up for the hail, the motor liability [line of business] will be a loss position," said Michael Pickel, head of target markets for Hannover Re, as reported by SNL. "I think it is clear to predict that there will be even more rate increases than last year."
The third quarter saw other catastrophes besides the German hailstorms. Canadian insurer Intact Financial Corp. on Sept. 30 estimated C$270 million in pretax losses for the third quarter, citing 10 events contributing to the overall loss figure, including hailstorms in Alberta and rainstorms in Ontario and Quebec.
Read the full report here: http://www.snl.com/InteractiveX/Article.aspx?cdid=A-25277212-13104.