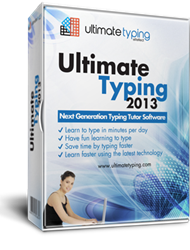 Employers place a high value on employees that are able to deliver work on time and demonstrate high levels of productivity.
New York City, NY (PRWEB) October 18, 2013
Ultimate Typing, a typing program recently introduced by eReflect, is specifically designed to enhance job productivity and efficiency by allowing typists to improve their accuracy and speed of typing. In the latest statement published by the company this week, the eReflect development team announced that Ultimate Typing will now also offer its users the chance to learn Microsoft Office productivity tips and techniques.
The team's statement revealed that eReflect is now offering a special bonus offer to all its users who download Ultimate Typing within a specified time period. Users that download the software will be able to benefit from Microsoft Office productivity tips and tricks e-book, free of cost.
The developers at eReflect believe that the Microsoft Office productivity e-book is an ideal match for Ultimate Typing, as users will not only be able to learn touch typing but will also gain insight into the keyboard tricks and techniques that can be adopted to increase productivity when using any program from the Microsoft Office suite.
Employers place a high value on employees that are able to deliver work on time and demonstrate high levels of productivity. This is now possible with the help of the special offer provided by Ultimate Typing. Using Ultimate Typing can allow users to increase productivity by a staggering 63%, and learning and using the tips and tricks in the Microsoft Office productivity e-book will further result in employees delivering professionally designed presentations and reports.
The team highlighted that the e-book covers an extensive range of topics and will allow users to organize their mail and merge it with relative ease, among other things. Knowing these tips can allow an employee to gain a competitive advantage within the workplace.
Ultimate Typing is highly beneficial for all computer users because the typing and keyboarding skills required to efficiently use computers can be learned through the software in a short time. This special offer means that the benefits of using eReflect increase considerably as typists will be able to learn a range of skills for the price of one product.
For more details on Ultimate Typing™, please visit http://www.ultimatetyping.com/.
About Ultimate Typing™
Ultimate Typing™ software is designed specifically for the improvement of typing skills. Created by eReflect, a world leader in e-learning and self-development software, Ultimate Typing™ has been informed by the latest developments in the science of touch typing.
Since its creation in 2006 by Marc Slater, the company has already catered to over 112 countries all over the world, offering products with the latest cutting-edge technology, some of which are among the world's most recognized and awarded in the industry.