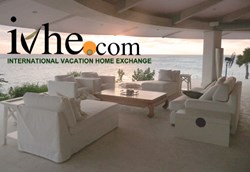 "By having a fellow member stay in your property when it would otherwise be empty, it's a little like signing up for a global neighborhood watch scheme," Suzie Magnus says.
(PRWEB) October 09, 2013
As the vacation season draws to a close and hundreds of thousands of second homes around the world are locked up for the winter, the criminal community starts rubbing its hands. Out come the crowbars and the stash-bags; on goes the computer for an eager hour's homework on Google Earth. "It's a sad fact that holiday homes are especially vulnerable," says Suzie Magnus, founder of the non-simultaneous vacation home exchange club IVHE.com. Empty properties, as people have known for decades, are an open invitation to burglars.
For several years, Police have advised people not to tell their Facebook friends when they are away in case they unwittingly advertise to a wider community that their home is about to be empty. As long ago as 2011, Britain's Daily Telegraph newspaper was warning how burglars were befriending "as many people as possible" on social media sites to glean personal information about impending vacations.
The obvious way to stop a second home from looking empty is by having someone stay in it, which is not lost on IVHE's globe-trotting members. IVHE's offering is unique: aimed at second home owners, who allow fellow members to stay in their property when it would otherwise be empty. The vacation home owners earn credits which are used for stays at other luxury home exchange properties in the network. As Suzie Magnus says: "Why leave your vacation home empty when a carefully-vetted fellow home exchange member can stay in it?" "By having a fellow member stay in your property when it would otherwise be empty, it's a little like signing up for a global neighbourhood watch scheme," Suzie Magnus says.
For non IVHE home exchange members, there are still steps to stop empty vacation homes being such a magnet for burglars – and Magnus's close relationship with her members means that she knows some of the best.
Here are the top 5 tell-tale signs that a vacation home is empty – with an IVHE's top tip for each
1/ It's been 'done up' for the winter
Top tip: lock now, paint later
While vacation home owners like to fix up and paint their properties at the end of a season so that the job is done in advance of next year, what they are also doing is making a property look attractive to intruders. "A nice, freshly-painted property makes it all the more eye-catching and suggests it will be equally luxurious inside," says Magnus. "Save your new paint job for the start of the season."
2/ It' so quiet you could hear a pin drop
Top tip: fake the 'lived in' look
"By paying someone to look after the lawn and having a neighbour come in and open the shutters once or twice a week, to anyone 'casing out' the property you're making it look like there are all sorts of comings and goings going on," says Magnus. "Offer to let a neighbour park their car in the drive," she says. "Or if the property has large grounds, ask a local to walk their dog there. It all helps spread a little doubt in the burglar's mind."
3/ There's a big arrow outside saying 'vacant!'
Top tip: advertise discretely
"Things like 'vacant' signs and notices in the village shop showing a picture of the property, its address and the fact that it is 'available' will let any passing burglars know that it's empty," says Magnus. "Better to advertise with reputable companies who keep the property's exact location under wraps."
4/ It sticks out like a sore thumb
Top tip: kill all tell-tale signs
Classic but oft-overlooked clues that a property is empty include bulging letterboxes, overgrown gardens, lights permanently left on and bags of uncollected rubbish. "When the last guest has gone, do everything possible to ensure the property looks as 'invisible' as possible," says Magnus.
5/ It's surrounded by other, vacant vacation homes
Top tip: invest in security
Nothing screams 'burgle me!' louder than a whole street of empty vacation homes, but you can avoid becoming a victim by making the criminals think twice about your property. In numerous surveys reformed burglars have revealed that a house was always less attractive to them if it looked like it would be difficult to get into, so swap the 'lock up and hope' mentality for burglar alarms, 'beware of the dog' signs, top-quality locks and secure fencing. Shutters, have the added bonus of hiding any valuables.
Says Suzie Magnus: "Having a vacation home broken into, is very distressing to an owner, so we hope our members' tips prove useful. It's certainly worth remembering, that the best way to keep your vacation home looking occupied is by actually having guests in it, which is one of the many reasons that our members love to be part of the IVHE home exchange network."