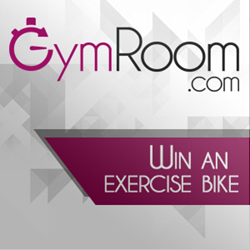 PhysioRoom.com is proud to announce the launch of its best kept secret. - GymRoom.com.
(PRWEB UK) 11 October 2013
PhysioRoom.com is proud to announce the launch of its best kept secret - GymRoom.com.
To celebrate the brand new website GymRoom.com, will be giving away some amazing prizes as part of the pre-launch competition giveaway.
Visit the homepage and register at GymRoom.com before the big unveiling in November 2013 for the chance to be automatically entered into the prize draw competition. Be in with a chance to win one of five top items, from a top-of-the-range Indoor Upright Cycle to a high-performance Portable Heated Neck and Back Chair Massager.
The competition is free to enter. Further details are available from the GymRoom.com homepage or YouTube Channel.
Building upon the huge success of PhysioRoom.com and adopting the same no nonsense, jargon-free approach to the sports industry, GymRoom.com will look to bridge the gap between consumer buying and expert results driven guidance.
GymRoom.com will not only provide a competitively priced online sales outlet for exercise related fitness equipment, but will assist the consumer throughout the whole purchasing experience, from inception to buying, to offering full support in the journey to a healthier and fitter lifestyle. GymRoom.com will not only facilitate smooth and hassle-free shopping but through the 'Performance Portal' GymRoom experts will look to provide the latest news and research with regards to a variety of key developments within sport and fitness to provide a holistic approach to online selling:
Nutrition – how to combine healthy eating and training/making the most of your training program/achieving goal specific targets i.e. weight-loss or bulking-up / demystifying diet fads / meal planners and cutting edge topical news for research and debate.
Muscle – targeted programs designed to maximise your workout/benefit from industry experts and the latest scientific evidence/select areas for improvement or opt for full body conditioning.
Fitness – choose sports specific training from cycling to swimming or running to adventure racing. GymRoom.com has it covered, bringing an outdoor training experience indoors; innovative techniques designed to smash through a plateau, upgrade your workout and move your training onto the next level.
Health – tips and hints on how to improve mental well-being/create a better you for the long term / balancing the rigorous of everyday life with fitness / stay motivated when the going gets tough.
Register today at GymRoom.com for all the latest news and updates regarding the launch of this brand new pioneering concept for online sports retail.
GymRoom.com providing top quality 'Home Gym Equipment' at an affordable price.