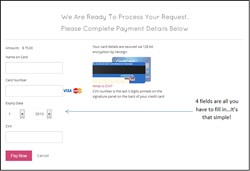 Bangalore, Karnataka (PRWEB) October 09, 2013
Milaap proudly announces the release of its new payment gateway system via Stripe. All payments to Milaap will now be powered by Stripe Payment Gateway, trusted by a wide range of sites on the web. Stripe caters to small businesses, developing ones and other big projects. Milaap's association with Stripe will bring its users greater flexibility, quick processing of payments and enhanced security. In short, payments in Milaap will just get better and faster.
The key advantage of this new payment interface is its simplicity. A user can enter credit card details on Milaap's website and the payment will be processed in seconds, way faster than its previous payment gateway model. Users will no longer be directed to a separate payment gateway site; this saves time and reconciliation of issues is faster with fewer or no redirects. To put simply, users have to no longer move back and forth between Milaap and a payment gateway interface. The USD payments page on Milaap (that now uses Stripe payments) is fully secure. All communication related to the payment happens over SSL (https) and is encrypted.
Milaap is excited about the new technological developments coming along on-board. As an organization that is dedicated to empowering marginalized women, hardworking entrepreneurs and deserving students through online lending, Milaap is taking significant steps to ensure better interface experience to its lenders, volunteers, interns and field partners.
About Milaap: Milaap is a mission driven company changing the way people fund and impact communities in need. Every day, Milaap connects hundreds of hardworking borrowers looking to start a small business, pay for education, install better facilities in their households, and more – with people around the world willing to lend and rally their friends and family with as little as $25.
Contact Milaap for more information.