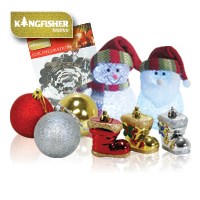 The new catalogue...has been labelled Bonnington's 'Biggest Edition Yet' and boasts 300 brand new products.
Nottingham (PRWEB UK) 8 October 2013
Bonnington Plastics have established themselves a reputable wholesaler of an eclectic range of homeware and garden products, including tools, bird care, pest control, lighting, heating and catering. Now, looking ahead to the future, Bonnington have two announcements for the upcoming months: A brand new range released for Christmas this year, and an even wider catalogue for 2014.
Well prepared for the busiest season, Bonnington's Christmas range spans from quiet, understated decorations to loud, animated decorations. There are garlands, ornamental trees, swags and wreaths in stock to emphasise Christmas in a warm, old-fashioned way. On the other hand, Bonnington have a spectacular range of fairy-lights and a selection of deluxe, premium, value and miniature fibre-optic Christmas trees. Yet, Bonnington have the whole of the winter season covered too, with snow accessories such as shovels, sledges and ice scrapers to suit outdoor uses either fun or practical.
Not content to stop at Christmas, on top of this Bonnington Plastics are thinking even further ahead, and this week the company have offered customers the chance to have a 'sneak peak' into their 2014 catalogue. The new catalogue, sections of which can be viewed in PDF Format, has been labelled Bonnington's 'Biggest Edition Yet' and boasts 300 brand new products. Among the new products featured in the catalogue are a 19 inch tool box, a 16 inch hand saw, 10 metre (33ft) metal tape measurers, and a 3-Pack of LED T Light Garden Lanterns. With over 2,500 products listed in the brochure altogether, Bonnington Plastics can now boast their broadest range so far.
Dedicated to innovating new products, expansion and delivering customer satisfaction, in recent years, the company have continued to evolve the well-known and popular range of Kingfisher products and expanded into a quarter million square foot warehouse. Open 7 days a week, with the promise of next day delivery, a comprehensive selection available online, and some attractively-priced wholesale pound lines, Bonnington have managed to firmly establish themselves as popular with retailers and customers alike. With the announcement of a new catalogue and an extensive Christmas range, Bonnington look set to continue their wholesaling success into the new year.
"Bonnington Plastics are one of the country's leading wholesalers, supplying companies across the UK and abroad with a range of over 2,500 eclectic products, and some of the most competitive prices in the current marketplace. Excellent stock availability and dedication to unmatched customer service keep trade customers coming back for more, whether it's for pet care and pest control or gardening, lighting, and heating."
Tradesmen, retailers and otherwise interested parties are welcome to make enquiries, and a trade account can be opened at http://www.bonningtonplastics.com. E-mails can be directed to benm(at)bonningtonplastics(dot)com or the company can be reached by phone on 0115 9854 119. With next-day delivery available 7 days a week, there's no better time to sign up ahead of the Christmas rush.