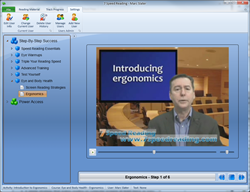 The course offers readers 10 different speed reading lessons to gradually introduce them to more advanced speed reading techniques.
New York City, NY (PRWEB) October 10, 2013
Speed reading training lets people read more in less time without sacrificing reading comprehension or information takeaway, eReflect reminded readers today in a brief announcement. An eReflect representative revealed that the 7 Speed Reading™ developers have compiled an online speed reading course for anyone who wishes to learn more about this essential 21st century skill.
The eReflect representative announced today that there is a new free speed reading training course available on 7 Speed Reading™ software's official Slideshare channel. The short course features a series of techniques and approaches that help people get rid of speed reading sabotaging habits and adopt new, efficient ones that will allow them to increase their knowledge without having to invest extra time for reading.
The course offers readers 10 different speed reading lessons to gradually introduce them to more advanced speed reading techniques. One of the introductory techniques explained in the course is the use of a variety of pacing methods the user can implement to increase reading speed naturally and easily. This module refers to the sweep, hop and serpentine style pacing methods as some of the most foolproof approaches to finger-aided speed reading.
The free speed reading online course from 7 Speed Reading™ software also introduces users to the SQRRR method of speed reading, which outline the five main pillars of speed reading focusing on good comprehension: survey, question, read, recall and review. This comprehensive speed reading approach lets the speed reader master volumes of reading material in a short time through its balanced and strategic approach to reading that only focuses on key sections of text.
Scanning and mind-mapping are two other speed reading approaches, both of which the designers of 7 Speed Reading™ software recommend and teach in this online course. The course explains the circumstances that lend themselves to scanning and the contexts in which the mind-mapping technique might be helpful.
Despite being less than 20 pages long, this speed reading guide offers fundamental information and techniques that can help readers improve their speed reading and push them over the 200-300 words per minute threshold. The reason behind this publication, according to the eReflect representative, is that the company wished to offer a balanced, well-organized guide that would serve as an introduction for anyone new to speed reading.
For more information about the benefits of using 7 Speed Reading, please visit the official website at http://www.7speedreading.com.
About 7 Speed Reading™
7 Speed Reading is the only modern speed reading software that uses the latest technology to produce superior results.
The software provides its users with a new way to master speed reading that guarantees three times the reading speed along with improved memory and comprehension.
The software is poised as the most comprehensive speed reading system anywhere. It contains seven learning strategies, fifteen software activities, video training, advanced tracking capabilities and many more exciting features.