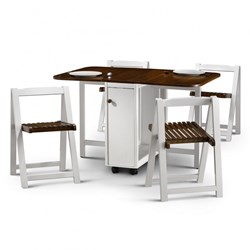 (PRWEB UK) 8 October 2013
This contemporary dining table set is an addition to the extensive range of dining furniture offered by FurnitureInFashion. FurnitureInFashion supplies furniture to commercial and residential clients all around the world. The company maintains extensive collection of furniture items in different categories including living room, dining room, bedroom, bathroom, kitchen, hallway and office furniture. FurnitureInFashion has established a reputation for offering some of the most innovative designs in the dining room furniture and dining table sets. Lisa dining table set in white and walnut with 4 chairs is an ideal solution for people with limited space in their dining rooms.
Lisa dining set is the most suitable solution for limited space as it has double drop leaf gate leg. This stunning dining table comes in white and walnut finish for exotic ambience. Lisa dining table is available with four comfortable folding chairs. These folding chairs have been designed in compact structure and can be stored inside the table for maximum space utilization. Liza dining set is a stylish yet functional item that can make any limited space beautiful and functional. It has been crafted from highest grade materials for the satisfaction of customers.
The dining table in Lisa dining set has two sets of dimensions. When opened with the drop leaf, the table has a length of 120 cm, width of 80 cm and height of 74 cm. With the drop leaf closed, this table has a length of 36 cm, width of 80 cm and height of 74 cm. Customers can take the measurement of the space in their dining rooms before investing in this beautiful and stunning dining table set. Lisa dining table set is available at very affordable price.
The Managing Director and CEO of FurnitureInFashion said, "FurnitureInFashion is committed to provide every home solution for any given space. Lisa dining table is a contemporary solution for limited dining room space. This dining table has been designed in a way that it takes up only limited floor spacing, making it easier for homeowners to decorate their dining rooms with other essential items. The chairs can be easily stored in the table which adds up to the overall functionality of a space saving table. The design of this table has been developed by fusing Italian design concepts. German manufacturing processes have been used for quality end product. The combination of walnut and white not only brings exotic look to the room but it also adds durability to the product. Customers looking for space saving dining table will be pleased to invest in Lisa dining table set. It is a new addition to the FurnitureInFashion's catalogue and is available at very affordable price."
FurnitureInFashion offers all other dining room furniture items and accessories including cabinets, chest of drawers, dining chairs, dining tables and shelving units.
To have a look at quality affordable furniture online and to place a pre-stock order, please visit the company website today at http://www.furnitureinfashion.net. The range of home and office furniture on the website is huge, delivery is fast, savings are massive and quality is guaranteed.
About FurnitureInFashion
FurnitureInFashion is a UK-based online retail business. It supplies furniture from its German-based warehouse and has a showroom in Bolton, UK. The company provides everything from umbrella stands, wall art and room dividers to bedroom suites, bar stools and computer tables. FurnitureInFashion offers free delivery within the UK and is rightly proud of its excellent customer service. For further information and details about sales, please visit http://www.furnitureinfashion.net.