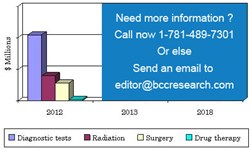 Wellesley, MA (PRWEB) October 08, 2013
According to a new technical market research report, Therapies and Diagnostics for Uterine Cancer from BCC Research (http://www.bccresearch.com), the global market for uterine cancer treatments and diagnostics was valued at $17.4 billion in 2012 and is expected to reach $17.8 billion by 2013. BCC Research projects the market to grow to $21.6 billion in 2018, and register a five-year compound annual growth rate (CAGR) of 3.9% from 2013 to 2018.
Uterine or endometrial cancer is a common cancer of the female reproductive system that begins in the lining of the uterus. When cells in the lining of the uterus replicate themselves, genetic mutations can occur that result in aberrant cells. These cancerous cells multiply and form a tumor. These tumors can be invasive and metastasize into nearby tissues, often spreading throughout the body.
According to the American Cancer Society, approximately 47,130 new cases of endometrial cancer were diagnosed and 8,010 women died from it in 2012. Surgery alone is often the only treatment. Sometimes treatment therapies also involve surgery in combination with radiation, chemotherapy, and hormonal therapy.
Scientists do not know exactly what causes uterine cancer, but several factors increase the risk of developing it. Uterine cancer is often detected early because of abnormal vaginal bleeding. Other more subtle symptoms include pelvic pain.
Uterine cancer is basically a surgically managed disease and there are no drugs approved for this cancer. Most advanced and recurrent stages of the disease are treated with drug therapy alone as surgery has no role to play. However, a number of the drugs that are currently used are generics and have high toxicity levels. The response rates of these off-label drugs are high but the safety profile is low. At present, the market is not well served with the current products available.
Currently, drugs with high efficacy and safety profiles are very much needed to fulfill the unmet medical needs in the market and researchers are examining new drugs, combinations of drugs, and targeted therapies at various stages of pipeline development. Growth in this market is being driven primarily by research and development and a slight increase in the disease prevalence rate due to an aging population, diabetes, and obesity.
This new report from BCC Research provides an overview of the current and potential global market for uterine cancer, treatments, screening, and testing technologies. The report includes comprehensive information on uterine cancer and its treatment. It identifies and analyzes the key trends driving the global uterine cancer therapeutics market and presents a detailed analysis of current uterine cancer technology and the utilization of the various therapeutic, screening, and diagnostic modalities.
The scope of this study is diagnostic test and therapeutic markets for uterine cancers. Screening tests are included as discussion only, as new studies have reflected that Pap smears, CT scans and ultrasound could be used as screening aids for uterine cancer. In addition, the report includes important trends in the field, research, new developments, and sales forecasts by treatment and screening categories from 2013 through 2018. The report also focuses on the treatment usage patterns in the global uterine cancer therapeutics market, competitive landscape, emerging players, and pipeline products.
This report contributes to the areas of market growth in uterine cancer prevention and treatment strategies from the point of view of manufacturers, product suppliers, healthcare providers, and consumers of uterine cancer products and services. This study will be largely of interest to the pharmaceutical and biotechnology industries, as well as clinics, hospitals, and research institutes. This report will also prove crucial for investment firms in the relative sector.