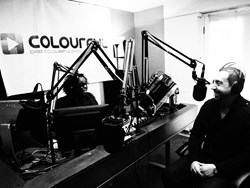 We are looking at a problem of 2.5 million unemployed people in this country... forcing people into mentoring and voluntary work is not the right thing to do
London, UK (PRWEB UK) 8 October 2013
Stevie Hutson, founder of innovative staffing company Superstars returned to Colourful Radio this week to appear on Colourful Life with Jacqueline "Jaxx" Shepherd. This time, Jaxx and Stevie were talking about Chancellor George Osborne's proposals to make unemployed people undertake work placements in return for their benefits.
Under the proposals, outlined at the Conservative Party Conference in Manchester, people who have been receiving Job Seeker's Allowance for more than two years will be compelled to perform voluntary work such as litter collection and to visit their local job centre every day. Failure to do so will result in the loss of benefits for up to 3 months. Jaxx wanted to know Stevie's opinion on the proposals.
"We are looking at a problem of 2.5 million unemployed people in this country. We have to look at different solutions to help them. Mentoring and voluntary work are really fantastic things but forcing people into mentoring and voluntary work is not the right thing to do."
"I think that this policy may start to taint voluntary work," said Stevie, "When you volunteer you want to give your time and skills to help a charity or a community or whatever. If people are being forced to do 'voluntary' work, what is their attitude going to be?"
Allowing some companies or organisations to use people forced to work in this way may be unfair to those who are in employment too, he continued. "There's nothing wrong with picking up litter and, believe me, if I was out of work I would be out there doing that. We've got wonderful street cleaners who do wonderful work keeping our streets clean and tidy. Why aren't people being paid to do this work?"
Stevie has a proposal of his own that he feels is both more fairer and more likely to address the problem of long term unemployment. "We've got to remember that people generally do not want to be out of work. They want to be part of the community and contributing something.
"It could be they've got the wrong kind of skills and they just can't join this new world. We should be actively encouraging those people through training, going into communities and voluntary work.
"Why has the government not spoke to the corporate sector and said, look we've got 2.5 million unemployed we want to motivate them. Can't you come up with some kind of apprenticeship scheme where you can take on at least one person per day? You can pay them a daily salary that we can deduct that from their benefits."
Steve had some final encouraging thoughts for anyone caught up in the trap of long-term unemployment who might be worried about the new proposals.
"It doesn't matter if you're unemployed or if you are looking for another job. Just remember who you are, because you'll get there. Good people always get good jobs."
Stevie Hutson will be back on Colourful Life next month. You can listen live via the Colourful Radio website or catch up with Stevie's previous appearances on the Superstars YouTube channel.
Superstars is based on a unique new staffing model that eliminates fees and margins forever. Clients work with Talent Managers to get the best staff for their needs and the Talent get amazing opportunities and the best support and mentoring in the industry.
Superstars' clients include BSkyB, Orange, Infosys and Radical Company with more being added all the time.
To find out more about Superstars' unique staffing model and how it can transform the way you hire staff, contact Stevie Hutson - Steve(at)homeofsuperstars(dot)com or visit http://www.homeofsuperstars.com