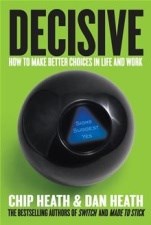 Philadelphia, PA (PRWEB) October 08, 2013
The NY Times Best Selling Author, Dan Heath, will be the key note speaker at the Philadelphia Society of People and Strategy's Leadership Forum on October 30th. This annual Leadership Forum, sponsored by PSPS, will feature Dan Heath, nationally recognized business book author, speaker and consultant.
As a speaker, Dan is known for blending practical information with a funny and motivational style. In the Leadership Forum, Heath will introduce a four-step process designed to counteract the biases we all have when making decisions—a process based on an exhaustive study of the decision making literature. Along the way, Heath will share an array of fascinating stories, from a rock star's ingenious decision-making trick to a CEO's career-ending acquisition to a single question that can often resolve thorny personal decisions. Audience members will walk away with fresh strategies and practical tools enabling them to make better choices. Because the right decision, at the right moment, can make all the difference.
Says Adam Berman, President, PSPS, "We are absolutely thrilled to have such a cutting edge thought leader with an internationally respected reputation. Be ahead of the curve and come hear about Dan Heath's newest book, Decisive. Our Leadership Forum sold out last year and we anticipate a sell out again this year, so act quickly and register now."
Date: October 30, 2013 7:30 am to 11:45 am
Location: Crystal Tea Room, The Wanamaker Building,
100 E Penn Square, Philadelphia, PA 19107
Heath is the co-author of two New York Times bestsellers, Made to Stick and Switch (along with his brother Chip). Their new book, Decisive, is #1 on the Wall St. Journal business best-seller list and #2 on the New York Times best-seller list for hard cover advice.
The Philadelphia Society of People and Strategy (PSPS; formerly PHRPS) is a strategically focused, ground-breaking network of more than 350 executives and innovators, who have responsibility for people and organizational strategy, from some of the world's most prominent organizations.
Contact: Stephanie Nickens | info(at)peopleandstrategy(dot)org