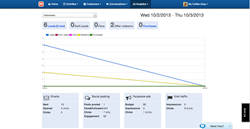 Eyal Kedem, Maverick's CTO and co-founder: 'Maverick is different from other marketing platforms because it provides a comprehensive solution for running a successful, low-budget marketing program - from concept to sale.'
Tel-aviv Israel (PRWEB) October 09, 2013
Maverick the creator of an award-winning marketing platform for small businesses, today announced that it has been named a winner in the Facebook Preferred Marketing Developer Innovation Competition. In the competition, Maverick's marketing platform was recognized as a standout marketing solution for small businesses.
Maverick empowers small business owners to achieve professional 'ad agency quality' marketing campaigns at affordable prices, generating more leads and more sales. "Most small businesses owners don't do digital marketing effectively. They lack the time and know-how, and they can't afford to hire an ad agency and invest heavily in media," says Itamar Shafir, CEO and co-founder of Maverick.
"With Maverick, small businesses can now benefit from the same level of know-how and execution power of a professional ad agency in their online marketing efforts, for as little as $100 a month. Small business owners will no longer be disadvantaged by their lack of marketing experience. With Maverick, anyone can create a professional online marketing campaign to generate sales and increase profit.
Eyal Kedem, Maverick's CTO and co-founder, added that "Maverick is different from other marketing platforms because it provides a comprehensive solution for running a successful, low-budget marketing program - from concept to sale - instead of just concentrating on a specific piece of the marketing cycle".
The platform's automatic marketing engine creates and executes online marketing campaigns, including copy and graphics, thus requiring no significant time investment or prior experience. Maverick generates traffic using micro-budget ad campaigns supplemented by email marketing and social media posting, so that marketers that don't have a marketing email list or a successful social presence, can still generate relevant traffic. Maverick creates a clear call for action and conversion units for each campaign, such as sweepstakes, photo contests, polls and coupons, converting relevant traffic to leads and fans instead of directing traffic to a generic website or local listing where it will be lost. Maverick's loyalty program tracks customers' information and engagement in order to provide rewards based on points or birthday promotions, thereby retaining customers and nurturing leads.
Maverick forecasts each campaign's potential leads and fans, providing marketers with a clear ROI prior to investment. Even on very low cost - campaigns, Maverick can still forecast potential leads and fans.
"Maverick is the first ever marketing platform for small businesses, to run multi-channel marketing campaigns, autonomously, week after week, hitting forecast results and generating leads and sales. Maverick is unique, innovative and effective and we are proud to be recognized as such by Facebook," says Itamar Shafir, CEO and co-founder of Maverick.
For more information, visit https://maverick.appforma.com.
Facebook® is a registered trademark of Facebook Inc.