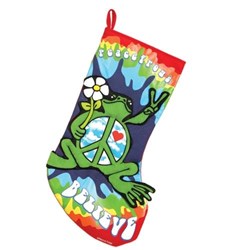 Gloucester, VA (PRWEB) October 09, 2013
Peace Frogs can't confirm that Santa Claus is checking its web site this holiday season – he keeps those things pretty secret – but the Virginia-based casual apparel company is hoping it can at least help with his famous list checking.
This holiday season, the Peace Frogs web store features an online wish list where customers can select their favorite items to send to family and friends.
The wish list feature is free.
The only requirement is an online registration form, which asks for a name, mailing address, email address and phone number.
Customers then receive a private member log-in to manage their wish list, orders and more.
About Peace Frogs:
Established more than 25 years ago by Catesby Jones, the Virginia-based Peace Frogs apparel company promotes positively peaceful living. The t-shirt, apparel and gift products are featured online and in more than 800 specialty stores around the world. With 16 free standing stores, a Peace Frogs Frozen Yogurt shop recently opened in Nags Head, N.C. and 20 licensees, the Peace Frogs brand grows in popularity each year. For more information about Peace Frogs, contact Catesby Jones at catesby(at)mindspring(dot)com.