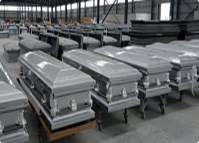 (PRWEB) October 10, 2013
Today, MillionaireCasket.com, the well-known caskets manufacturer and retailer, adds its new metal casket collection to its line of products. To show the company's appreciation to customers worldwide, these new metal caskets come with great discounts, up to 40% off.
As a spokesman for the company suggested, MillionaireCasket.com launches this promotion to benefit the clients all over the world, especially the customers in Europe. MillionaireCasket.com owes its fast development to the customers' trust and support. It wants to thank all customers by offering high quality products at low prices.
"The new metal caskets come in a wide range of sizes and weight. Clients can order bronze as well as steel caskets with any measurement online. We also provide extra large caskets and small caskets for children. We use chemicals to keep the caskets clean on the inside, so they are rust free and corrosion free," the CEO of the company said.
MillionaireCasket.com builds high quality caskets in a wide range of designs and styles. Its primary aim is to be a one-stop shop for customers around the world. The website is updated every day to offer the latest information about new products. Every casket comes with a secure locking system. The company has gained many positive responses from its customers because of its fine products at affordable prices.
About MillionaireCasket.com
MillionaireCasket.com is a leading China casket manufacturer, and focuses on the business of casket wholesale. This company provides an exquisitely crafted line of all kinds of metal caskets, solid wood caskets, veneer caskets, cremation caskets, rental caskets, orthodox caskets, infant or over-sized caskets and European style coffins. The standard quality control policy is strictly applied here, and a third party quality assurance is also offered. Visit http://www.millionairecasket.com/ for more details.