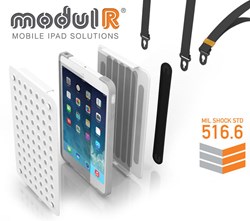 modulR integrates the iPad into the fast-pace and demanding needs of today's mobile lifestyle and work style.
Louisville, KY (PRWEB) October 09, 2013
modulR, maker of mobility accessories for the iPad, has combined the World's Thinnest Shock Absorbing Case* with an equally innovative "Flip" Cover.
Featuring modulR's patented node connectors, the Flip Cover connects to task-specific modulR accessories – allowing you to easily expand the iPad Mini's utility to fit any situation.
Other case manufacturers, like Otterbox and Lifeproof, lock the iPad behind heavy plastic. modulR helps to unlock the iPad's potential through a lightweight, equally protective and flexible solution.
A user-centered approach to product innovation makes the modulR mini system perfect for businesses, schools, hospitals and iPad enthusiasts who need a system built for real life.
"At modulR, we focus on integrating the iPad into the fast-pace and demanding needs of today's mobile lifestyle and work style," Josh Beatty, founder/inventor at modulR. "The modulR mini case is not only thinner than other cases, it's tougher and more versatile."
modulR's new iPad Mini Mobility Pack ($59.99) includes the Mini Case, Flip Cover, Hand Strap, Shoulder Strap and Wrist Strap. The Mini Mobility Pack is on sale now for $49.99 and SHIPS TODAY.
modulR is also introducing a new Mini Storage Stand ($19.99) – a sturdy display and typing stand that stores the wire and plug for the iPad Mini.
For more information on modulR's full range of mobile iPad solutions or for media resources, click here.
About modulR
modulR (pronounced as modular) is a small business that works closely with many large businesses to help develop solutions that help people get the most out of their iPad through innovative and highly functional mobility accessories – including custom solutions for specific challenges.
*modulR mini case exceeds the Department of Defense MIL-STD 810G 516.6 for SHOCK.