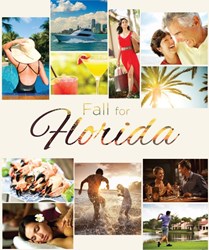 The question is not 'will you?' but 'where will you?' - Eric Gavin, Regional Vice President of Sales & Marketing
Miami, FL (PRWEB) October 08, 2013
As temperatures drop and leaves change color across the rest of the world, the Personal Luxury Resorts & Hotels® in (sunny and warm) Florida encourage travel with the #Fall4PLRH getaways. Offering savings and value added in, the #Fall4FLA getaways offer an "extension of summer" with warm weather fun at five Florida resorts.
Travelers will receive luxurious accommodations, $50 credit per room, per night and breakfast for two daily at Costa d'Este Beach Resort in Vero Beach; Villas of Grand Cypress in Orlando; Marenas Resort in Sunny Isles Beach; ONE Bal Harbour Resort in Bal Harbour and Naples Bay Resort in Naples. In addition, guests at Naples Bay Resort will also receive one full-day of boat rental, for $99, included in this getaway – representing nearly $300 in savings.
"We've perfected the deal, offering savings at five outstanding resorts in choice destinations, when the weather is ideal," states Eric Gavin, Regional Vice President of Sales & Marketing. "Seems like a no-brainer? The question is not 'will you?' but 'where will you?'"
For more information on each resort's #Fall4FLA getaway or to reserve, please visit http://bit.ly/1773DV0.
---
About Personal Luxury Resorts & Hotels®
Personal Luxury Resorts & Hotels® includes unique hand-picked properties in spectacular U.S. destinations coast to coast. Each hotel and resort delivers personal luxury in a spirit true to its own distinctive locale, yet in keeping with the collection's shared mission. They represent a select portfolio of Benchmark Hospitality International®, which has been a leading US-based hospitality management company for over 30 years. Personal Luxury Resorts & Hotels is the preferred choice of guests who yearn for transformation over accommodation, customization over conformity, and inspiration over predictability. With Personal Luxury Resorts & Hotels, luxury is always personal. http://www.personalluxuryresortsandhotels.com. To become a fan on Facebook, visit http://www.facebook.com/PersonalLuxuryResortsandHotels, or follow us on Twitter at http://www.twitter.com/PersLuxResorts.