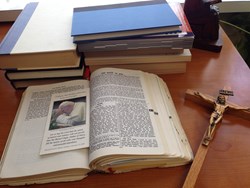 Choosing a Catholic education for our children is so important.
Cincinnati, Ohio (PRWEB) October 07, 2013
Catholic colleges and universities have educated many students in America since Mount St. Mary's University was founded in Emmitsburg, Maryland in 1808. Today there are over 240 Catholic colleges and universities in America, according to the American Association of Catholic Colleges and Universities. Census numbers and population analysis show that the Catholic population is growing- from 64.8 million in 2005 to 66.8 million in 2013.
Likewise, enrollment in degree-granting institutions increased 34% between 2000 and 2009, which means more students are enrolling higher education, according to Hanover Research, a Washington, D.C. research firm.
As parents look for a Catholic education for their sons and daughters, they face lots of choices. To help make those decisions, organizations like the Cardinal Newman Society and Catholic high schools like Royalmont Academy provide useful resources to discerning parents.
The Cardinal Newman Society published a guide to choosing a Catholic college. "Because every Catholic college is unique, families need more than simple checklists or government-collected data to make decisions," said Patrick J. Reilly, President of The Cardinal Newman Society. This guide provides information on admissions and tuition, as well information about visiting campus and rules for campus dating. The guide recommends 28 options for parents of Catholic students, including 20 residential options within the continental United States.
The guide contains more than 400 pages of information about colleges. For others, meeting representatives of the colleges and universities can help making the important decision. Royalmont Academy High School in Northeast Cincinnati is hosting a "Catholic College Fair" on Tuesday, October 8th.
"This event gives families the chance to meet representatives from several colleges and universities at once," says Tony Ferraro, the Executive Director. "We're pleased to announce that 6 of the 20 schools recommended by the Cardinal Newman Society will be represented in our first annual Catholic College Fair."
Representatives from the schools, (in some cases recent graduates) will share the academic options, residence life options, cost and personal experiences from their college or university.
"Choosing a Catholic education for our children is so important. We're so lucky as parents to have resources like the Cardinal Newman Society and a Catholic College Fair at Royalmont," said Carl Brown, a father of six. "This way, we can see our options side by side and provide the best environment for our kids to learn and to grow in their Catholic faith."