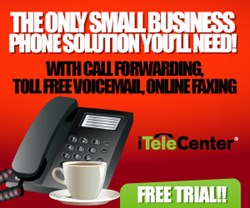 The new 844 toll free number prefix will be like replenishing the stock of available toll free vanity numbers!
Piscataway, NJ (PRWEB) October 08, 2013
The Federal Communications Commission (FCC) announced it will release the new 844 toll free prefix on December 7, 2013. The last time the FCC released a new toll free prefix was in October 2010 when they released 855 numbers.
Businesses across the US and Canada have already started planning to get their very own 844 toll free numbers. iTeleCenter will make these 844 numbers available to its customers with all the advanced features of a business class phone system.
844 toll free numbers will function exactly the same as any other toll free number. The main advantage here is the availability of vanity numbers -- numbers that spell a word or name. Entrepreneurs are aware how difficult it is to get a custom toll free number or a custom vanity toll free number. The best ones have become nearly impossible to find.
The release of 844 numbers gives them an opportunity to grab the business phone number of their choice. This new prefix will basically replenish the stock of vanity numbers. This will enable companies and individuals to get a branded vanity number or acquire an additional prefix for their existing branding.
Business owners will try to make the most of this opportunity for the benefit of their business.
Keep checking iTeleCenter.com for more information and updates.
About iTeleCenter
iTeleCenter has been successfully providing communications solutions to small and home based businesses for more than two decades. Since its inception in 1992, iTeleCenter has flourished into a fully fledged virtual phone system with local numbers, vanity numbers, and toll free numbers. Businesses rely on its advanced features including voicemail with instant notification, call forwarding, call transfer, call capture, and online faxing. iTeleCenter helps entrepreneurs, business owners, and remote employees work from different locations while calls are forwarded to their mobile or home phones. To learn more about iTeleCenter, visit: http://www.itelecenter.com.