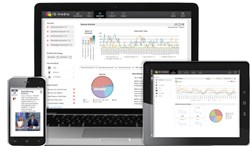 "We spent the first two years making sure the infrastructure was sound and we could deliver on the promise," said John Derham, CEO at iQ media.
Doylestown, PA (PRWEB) October 07, 2013
Today iQ media, the media intelligence platform technology leader, announces its customer base is fully implemented on cliQ 4.0.
With the success of the limited availability launch of cliQ 4.0 over the summer, iQ media continues to break industry barriers, giving companies new ways to leverage broadcast media. Centerpieces of the new version are Discovery Center and TimeShift, facilities that provide content, correlations, and insights that simply are not possible with the prior generation of media monitoring technology.
"cliQ 4.0 is what we think as our official entry into the marketing and public relations market, with a product true to what we envisioned media intelligence to be. We spent the first two years making sure the infrastructure was sound and we could deliver on the promise," said John Derham, CEO at iQ media.
As part of the limited availability program, iQ media customer, Kris Koivisto of the Portland Trailblazers announced on Twitter: "Much sleeker, cleaner UI!" - adding "@TrailblazersPR now have top-notch media monitoring" with reference and screenshot to mobile playback of broadcast video on his iPhone.
"Today, a platform that looks great without a strong foundation to run it, will be quickly uncovered by the customer – they are too smart a consumer with these tools," said Kye Strance, SVP of Products for iQ media. "We would not have been able to launch industry first products like Discovery or TimeShift without an incredibly sophisticated, stable and proven infrastructure."
cliQ 4.0's Discovery Center enables users to visually assess media coverage patterns using a faceted search and trend overlay technique. TimeShift, enables users to search nearly 6 million hours of US broadcast media going back as far as 2010, and immediately play back content for research purposes.
"With our successful release, our customers have unprecedented ability to discover broadcast content and see how their marketing and public relations initiatives impact online coverage," said John Derham, CEO of iQ media. "We are proud to deliver new capabilities to the market that PR professionals and CMOs have been seeking."
In addition to converting all customers to cliQ 4.0, iQ media has launched a redesigned website (http://www.iqmediacorp.com) and blog on media intelligence. To view the blog and sign up for weekly posts head to info.iqmediacorp.com/blog.
About iQ media
iQ media is leading the most important technology transformation in the history of broadcast TV, online news, and social media monitoring. It is the transformation from traditional media monitoring services to Media Intelligence Platforms. iQ media's cloud-based database, cliQ, empowers clients to move beyond media monitoring to proactively leverage media content to drive topline revenue and further their strategic communications goals. Learn more at http://www.iqmediacorp.com.