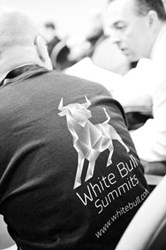 It is a real honour to partner and print for such a prestigious summit, they are a pleasure to work and we love the challenging designs.
London, Barcelona (PRWEB UK) 8 October 2013
International t-shirt printing company Garment Printing partners with White Bull Summits for the Pathways to Exit 2013 event to be held on 7-9 October in Barcelona, Spain. The event invites entrepreneurs from all career stages to interact with investors, innovators, and business experts to inspire future collaboration and encourage new ways of thinking.
As an official sponsor and printing partner, and staying true to Garment Printing's philosophy of embracing new technology and innovative concepts, the t shirt printing company decided to become an official partner of this year's Pathways to Exit event.
Garment Printing created personalised t shirts for the Pathways 2013 team and participants as well as shirts for a special 'BullPen 2013' session using a combination of Screen Printing and Direct to Garment printing.
White Bull launches events wherein participants may not only be enlightened, but where they can also leave the venue with a much wider and more profitable network of contacts.
Catering to the Technology, Media and Telecommunications (TMT) sector, White Bull's strategy of inviting a diverse range of individuals, from fresh starters who can keep everyone up to date on the current trends, to experienced professionals who are willing to share knowledge gained from years of practice, has helped make their events a hub for networking and idea sharing.
Co-founders Farley Duvall and Elizabeth Perry have an extensive network of peers, many of whom take part regularly in their summits. The duo's reputation and years of experience in running successful businesses have helped them to design summits that are both strategic and enjoyable.
Pathways to Exit is an annual event for European Tech, organised by White Bull Summits. This year marks the fourth time that visionaries and business moguls will meet in Barcelona, Spain to listen to keynote speakers, form business connections, and have stimulating conversations.
A separate session called the BullPen takes place from 12:00-17:00 on 7 October and it's the time for start-ups to challenge each other boot camp-style. Being able to show off their presentation skills and ideas to an esteemed panel of experts allows them to receive beneficial feedback and critique to better their proposals and projects. Throughout the three-day event there will be cocktail hours, casual soirees, and on the final day, a Gala Dinner as well as the Bully Award's Ceremony rewarding top presenters and pitch makers.
Pathways to Exit 2013 will be held at the Hotel Miramar Barcelona from 7-9 October. See the White Bull website to find out more.
About Garment Printing
Garment Printing (http://www.garmentprinting.com) is a leading international promotional and customised clothing company, offering a complete range of bespoke printing techniques. The company, founded by CEO, Gavin Drake in 2003 has worked with global brands including Mindshare, Coca Cola, Skype, Google and Saatchi & Saatchi.
Garment Printing's consultants work with marketing teams and promotional agencies to deliver printed clothing campaigns to budget and its global supply chain provides express turnaround and excellent customer service.