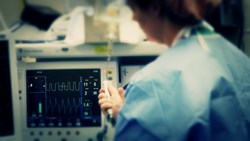 "Premier has delivered expert insight and advice drawing on resources that Deborah would never have had access to in a very accommodating manner," said Joe R. Manni, COO & VP Operations.
Browns Mills, NJ (PRWEB) October 09, 2013
Deborah® Heart and Lung Center has announced the appointment of Premier Anesthesia as its professional anesthesia services provider for both in-patient and out-patient services.
Premier Anesthesia, a leading anesthesia management company headquartered in Atlanta, Georgia, has developed a model for providing high-quality, patient-centric anesthesia services, with a business model for streamlined efficiencies in patient flow, professional staffing, and a proprietary evidenced-based management tool for clinical and operational optimization.
"We are always looking for ways to improve our services, both from a medical standpoint for better patient care, and from a financial standpoint for better hospital management," said Joseph R. Manni, Vice President Operations and COO at Deborah® Heart and Lung Center. "In today's challenging healthcare environment it is crucial for hospitals to continually re-evaluate their processes and systems. Our decision to use Premier Anesthesia is a reflection of that on-going effort to improve our performance."
Deborah® Heart and Lung Center is the region's premier specialty heart, lung, and vascular hospital, known as a regional center of excellence, with excellent clinical outcomes and superior patient service.
"I, as well as everyone at Deborah, have had a very positive experience," said Manni. "Premier has delivered expert insight and advice drawing on resources that Deborah would never have had access to in a very accommodating manner. All interaction with every contact at Premier has been very professional. Premier has been quick to respond to every question and request; and been very accommodating and flexible to the needs of Deborah® Heart and Lung."
"We are proud to handle the provision of anesthesia to such a high caliber facility as Deborah," said Kerry Teel, President of Premier Anesthesia. "Our anesthesia management company's expertise enables us to create efficient anesthesia delivery systems together with providing the highest level of care for the patient. Premier's core strengths are the processes and procedures developed from years of experience in a multitude of settings, and the ability to customize those processes to meet each hospital's unique needs and goals."
To learn more about Premier's scalable anesthesia services, or to find out more about the anesthesia management company or its staff of experienced anesthesia consultants, visit http://www.premieranesthesia.com or call (770) 643-5616.
About Deborah® Heart and Lung Center
Located in Browns Mills, New Jersey, Deborah® Heart and Lung Center is the only hospital in the region that focuses exclusively on cardiac, vascular, and lung disease using state-of-the-art technology and care. It has been named by Philadelphia Magazine as "the place to get the best cardiac care" and is ranked among the top hospitals in the country for patient satisfaction by independent research companies, national consumer magazines, and the federal government in its monitoring of healthcare organizations. Deborah® Heart and Lung Center has 89 beds with a full-service ambulatory care center. Visit Deborah®.org to learn more.
About Premier Anesthesia
Premier Anesthesia is a consulting and anesthesia management company providing comprehensive anesthesia services at 25 facilities in 15 cities and 12 states across the country. We cover 180 anesthetizing locations and conduct approximately 150,000 cases annually. With more than 10 years of experience in anesthesia management, Premier Anesthesia also provides independent consulting services to over 30 hospitals annually leveraging expertise in anesthesia management and anesthesia leadership development to generate specific recommendations for improving financial and operational performance and superior patient care. Visit PremierAnesthesia.com to learn more.