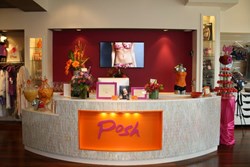 "This national expansion comes as a natural next step for Posh Lingerie," said Carolyn Boyd, CEO
Tigard, Ore. (PRWEB) October 08, 2013
Local high-end retail store Posh Lingerie officially announced a nationwide expansion strategy today to help serve and inspire women across the country.
Posh Lingerie has a unique niche--helping women of any shape or size feel beautiful with specialty lingerie and a luxury buying experience. With bra sizes from AA to H, any woman can leave our store with something beautiful, sized perfectly.
"This national expansion comes as a natural next step for Posh Lingerie," said Carolyn Boyd, CEO. "We've been able to have such a positive impact in the lives of women here in Portland. We're now committed to inspiring women across the country."
The first phase of the national expansion is today's launch of an online storefront designed by a local Portland firm. The phase two expansion plans include two new retail locations; one in Hawaii and another in Idaho.
"Our customers tell us: 'We've gotten used to the poor-fitting lingerie and lackluster service of big-box shopping mall lingerie chains.' We offer an alternative experience. Our business has grown through word of mouth at an exciting pace because women tell their friends and family about our store. They've found their experience so positive, and that's such an inspiration to me personally, because we've created something that improves the lives and confidence of women."
Posh Lingerie is located at Bridgeport Village off I-5 in Tigard and is now online at http://www.poshlingerie.net.