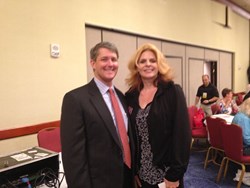 Hiram, GA (PRWEB) October 07, 2013
State Representative Paulette Rakestraw Braddock of Paulding County Georgia traveled this week to Savannah Georgia to meet with members of the Georgia Association of Economic Developers (GEDA).
While in Savannah, Representative Rakestraw Braddock spoke with the new DCA Commissioner Gretchen Corbin and the new Deputy Commissioner of the GDEcD while in Savannah, gaining their insights into their new positions and visions for shaping their new departments to support Georgia's strategic plan for Economic Growth.
Representative Rakestraw Braddock talked with Jay Neely, Corporate Counsel for Gulfstream about Gulfstream successful story in growing jobs and investing capital resources into Georgia. Gulfstream has made huge capital investments in the Savannah area bringing millions of dollars in investment and substantial job growth to the region.
Paulette toured the Ports of Savannah and talked with Curtis Foltz, the Executive Director of the Georgia Port Authority about the growth projections of the Ports of Savannah and the future impact it will have on Georgia's Economy. The Georgia Port are credited for creating over 317,777 jobs across the state. Over 156,698 jobs have been created in the Atlanta Region and 23,749 jobs in the Northwest Region of the state where constituents of Representative Rakestraw Braddock are employed. The job growth projections are expected to grow substantially in Georgia over the next ten years.
Representative Rakestraw Braddock is passionate about Economic Development for Georgia and serves on the Economic Development committee in the State House.