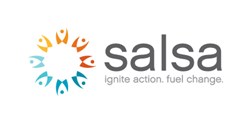 These individuals are true stars. It is an honor to work with them as part of the Salsa family and even more of an honor to recognize their hard work and dedication to their causes.
Washington, D.C. (PRWEB) October 10, 2013
Washington, D.C. – excellence in nonprofit list growth, advocacy and fundraising campaigns and use of Salsa technology.
"These individuals are true stars. It is an honor to work with them as part of the Salsa family and even more of an honor to recognize their hard work and dedication to their causes," said Christine Schaefer, Vice President of Community and Marketing for Salsa.
Healthy Child, Healthy World received the Sign Me Up Award for their use of advocacy actions and petitions to more than double their supporter list in the past 12 months. The award was given based on how significantly organizations have improved their supporter list over the last year. Other finalists included the Cystic Fibrosis Foundation and the Global Board of Church and Society.
Receiving the Show Me the Money Award was the Children's Radio Foundation (CRF) for their World Radio Day campaign, enabling supporters to send Valentine's Day cards by making a donation to CRF that was met with worldwide excitement and response. Criteria for this award were centered on those with the most impactful fundraising campaign. Other finalists included the Environmental Working Group and Jews United for Justice.
The 2013 Hell No, We Won't Go Award was given to the Natural Solutions Foundation for their Chile: Stop UPOV '91 efforts. They used Salsa to generate more than two million emails to decision makers in Chile, stopping the passage of new guidelines and protecting the rights of South American farmers. This category focused on organizations who worked to make their supporters' voices heard in a big or unique way. Other finalists included the Organic Consumers Association and New Era Colorado.
The Salsa All-Star Award was given to Live Your Dream for the success of their new online volunteer network. In just one year, Live Your Dream gained 25,000 supporters, raised over $16,000 in donations and empowered women and girls through 6,500 advocacy actions. The award was presented to a new client using Salsa to its fullest capacity for measurable success. Other finalists included the International Brotherhood of Teamsters and the Equality Federation.
Finally, the Salsa Ignite Award was presented to the Sikh Coalition for their ongoing work using fundraising and advocacy to improve the lives of Sikhs so that they may practice their faith freely and engage in strong relationships with their home communities. This award is given to an established client who is igniting action and fueling change in the world through extraordinary campaign execution with the help of Salsa tools.
The 2013 Community Conference awards are sponsored by Salsa partner PowerThru Consulting.
Follow Salsa on Twitter or like them on Facebook.
About Salsa Labs
Salsa Labs (Salsa) helps nonprofits and political campaigns ignite action and fuel change around the world by growing and engaging a base of support online. With Salsa, groups of all sizes can easily organize their supporters and chapters, fundraise, advocate, communicate through email and social media, host events and measure results. Salsa provides more than technology; it offers strategic best practices, training, highly rated support and a strong online community so its clients can focus their energy on their mission. The company currently empowers more than 2,000 organizations and their more than 75 million donors, members, activists and fans across the globe. For media information, contact Leah Wilkinson, WilkinsonShein for Salsa, 703-907-0010 or leah(at)wilkinsonshein(dot)com. Visit Salsa online at http://www.SalsaLabs.com.