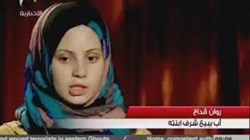 Washington DC (PRWEB) October 07, 2013
According to a Sept 28 Al-Arabiya report, 16-year-old Rawan Qadah's family claims she was kidnapped by Syrian security forces from a checkpoint in Deraa last November . She later surfaced on Syrian State TV where she was forced to record a 'confession' that she was allegedly sold by her father to rebel factions and raped repeatedly.
SEE: Kidnapped Syrian Women Forced to Make Sexual Jihad Claims on State TV http://english.alarabiya.net/en/variety/2013/09/28/Kidnapped-Syrian-women-forced-to-make-sexual-jihad-claims-on-state-TV.html
Rawan is not the only female forced to undergo this type of humiliation. Sarah Khaled Alawo from Deir Ezzor province was arrested in Damascus after she expressed support of the revolution against the Assad regime, according to her family and the Al-Arabiya report. Alawo was also forced to appear on Syrian State TV 'confessing' to being a "sexual jihadist" according to the report.
Unedited versions of the video obtained by the media show men's voices in the background giving directions on how to read the statements, according to the Al-Arabiya report. Qadah's mother has spoken to the media appealing for her release and stating that Rawan was kidnapped in November on her way home from school.
"The Syrian State TV video is part of a media campaign by the Assad regime to paint the opposition as extremists and criminals. They have consistently used the tactic of forced TV confessions since the beginning of the revolution," said SEO Board Member Malaz Sebai. "What makes Rawan's story so disturbing is that she is an underage minor who was taken from her family and made to confess to being raped on international television. This is a crime by the Assad regime, who is not only using a kidnapped girl to spread lies, but is damaging her psychologically on the world stage," said Sebai. "The regime is using kidnapped women like Rawan and Sarah as propaganda tools, at the expense of their rights and dignity. This is criminal and unacceptable, and we demand the immediate release of these women and girls, and all female prisoner's of conscience."