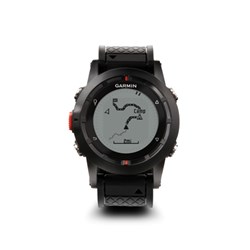 Garmin fenix offers wrist top navigation, trackback features and can even accommodate Garmin street maps for navigating in foreign cities
Bozeman, MT (PRWEB) October 08, 2013
Garmin fenix is a very popular GPS wrist watch with many US military personnel, and with good reason according to the Heart Rate Watch Company.
"Garmin fenix offers wrist top navigation, trackback features and can even accommodate Garmin street maps for navigating in foreign cities," says Rusty Squire, President of the Heart Rate Watch Company. He adds, "Many of our military customers tell us it is an indispensable tool."
FEATURES
"Garmin fenix uses a compass, altimeter and barometer to help you navigate and know of impending weather events," says Squire. He adds, "You can mark up to 1,000 waypoints, Suunto Ambit 2 only offers 100, for navigation and directly navigate to any coordinate with onscreen bread crumb trail."
"Garmin Street Maps can be loaded to the watch and provide a navigation tool for unknown cities that helps you find precise directions to specific locations and landmarks," says Squire.
"We had a soldier who was an artillery commander in northern Afghanistan tell us his fenix was indispensable and when it broke we sent him a brand new one without delay," says Squire. He adds, "Even though he could not return the broken one for 6 months, we knew it was important to him."
MAPPING MISSIONS
"With fenix the watch maps everywhere you go and then builds up detailed maps in Garmin Connect that allow you to review missions," says Squire. He adds, "There is even a Garmin fenix performer bundle that includes a heart rate strap and spare wrist band if you want one."
MILITARY DISCOUNT
It has been the long-time standing policy of the Heart Rate Watch Company to provide all member of the US military with a 10% discount on all purchases. "Simply call us at 866-586-7129 and we will provide you with a coupon code for military as long as you provide ID," says Squire.
FITNESS FEATURES
Garmin fenix can also provide heart rate data provided you purchase a Garmin soft strap heart rate monitor as an accessory," says Squire. He adds, "This makes it useful for fitness training as it provides heart rate, speed, and distance data."
"If you have questions regarding Garmin fenix then simply call the Heart Rate Watch Company at 866-586-7129," says Squire. He adds, "We have worked with military personnel for years."