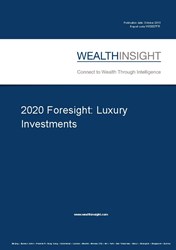 Rockville, MD (PRWEB) October 08, 2013
2020 Foresight Report: Luxury Investments
Since 2007, an increasing number of HNWIs have shown interest in alternative investments, such as art, classic cars, wines, jewelry, gems and watches, which in times of economic uncertainty can deliver higher returns than equities.
US HNWIs had the largest share of total luxury investments, valued at US$118 billion in 2012. Chinese HNWIs with total luxury investment of US$43 billion in 2012 were the second-largest contributor in luxury investment and were the major driving force behind the growth of luxury investment.
A development in alternative investments has been the evolution of the art and finance industry to answer the need of HNWIs who have acquired significant collections over time, as well as those of an emerging collector who invest based on quality and long-term value from the outset. Following the economic slowdown, car enthusiasts and investors in the UK have generated greater interest in classic cars. Many HNWIs from emerging countries in Asia, Middle East and Latin America are buying into this lifestyle by amassing their own collections of classic cars.
Key Highlights:
-In the last half a decade there was an increase in independent art advisors and art advisories as HNWIs became more aware of the need to protect their art;
-Gems, jewelry and watches account for the largest share in HNWI collectable assets;
-Luxury and vintage watches have attracted the interest of luxury investors in the last decade as they are increasingly sought for collections curated by HNW enthusiasts;
-Successful wine funds have diversified away from blue-chip wines;
-The demographic age split of classic car collectors has remained the same for the last few decades. The average age of a classic car collector ranges between 40 and 60 years;
-There is a growing interest of car enthusiasts in vintage cars that were previously owned by popular celebrities and film stars of the late 1950s and 1960s.
To order this report:
2020 Foresight Report: Luxury Investments
Contact: Shauna
800.298.5699
Customerservice(at)marketresearch(dot)com
WealthInsight
WealthInsight provides detailed data and insightful analysis on the global wealth sector. With decades of experience providing business information, we help organizations in the wealth industry make informed decisions, position themselves more effectively and uncover and capitalize on opportunities to win new business.
At the core of WealthInsight is our proprietary HNWI database of the world's wealthiest individuals. Your business can utilise this database to identify which wealthy individuals to reach out to. You can use our reports and briefings to analyse where the greatest opportunities lie.
About MarketResearch.com
MarketResearch.com is the leading provider of global market intelligence products and services. With research reports from more than 720 top consulting and advisory firms, MarketResearch.com offers instant online access to the world's most extensive database of expert insights on global industries, companies, products, and trends. Moreover, MarketResearch.com's Research Specialists have in-depth knowledge of the publishers and the various types of reports in their respective industries and are ready to provide research assistance. For more information, call Cindy Frei at 240.747.3014 or visit http://www.marketresearch.com.
Follow us on Facebook http://www.facebook.com/marketresearchdotcom .
Follow us on Twitter http://www.twitter.com/marketresearch_ .
2020 Foresight Report: Luxury Investments – Table of Contents:
1 Introduction
2 Executive Summary
3 Market Attractiveness and Emerging Opportunities
3.1. Defense Market Size Historical and Forecast
3.1.1. Egyptian annual defense expenditure to reach US$6.4 billion by 2018
3.1.2. Perceived Threats, military modernization, peacekeeping operations, and domestic turbulence expected to drive the country's defense expenditure
3.1.3. Defense expenditure as a percentage of GDP is expected to decline during the forecast period
3.2. Analysis of Defense Budget Allocation
3.2.1. Share of capital expenditure to average 15% over the forecast period
3.2.2. Egypt to allocate US$4.2 billion towards defense capital expenditure over the forecast period
3.2.3. The country is expected to spend US$23.9 billion on revenue expenditure over the forecast period
3.2.4. Per capita defense expenditure to increase over the forecast period
3.3. Homeland Security Market Size and Forecast
3.3.1. Egypt faces considerable risk from external and internal threats
3.3.2. Egypt experienced considerable terror activity during the review period
3.4. Benchmarking with Key Global Markets
3.4.1. Egyptian defense expenditure expected to grow at a faster pace over the forecast period
3.4.2. Egypt has a relatively small defense budget
3.4.3. Egypt allocates 1.7% of its GDP for defense
3.4.4. Egypt faces a substantial threat from foreign terrorist organizations
3.5. Market Opportunities: Key Trends and Growth Stimulators
3.5.1. Fighters & Multi-role Aircraft
3.5.2. Diesel Electric Submarines
3.5.3. Transport & Utility Aircraft
4 Defense Procurement Market Dynamics
5 Industry Dynamics
6 Market Entry Strategy
7 Competitive Landscape and Strategic Insights
8 Business Environment and Country Risk
9 Appendix