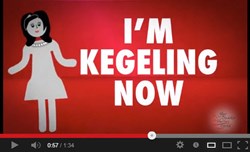 'The initiative has contributed to doubling the brand's website traffic over the same high-usage period last year, creating excellent word-of-mouth,' says Alyson O'Mahoney, executive vice president and creative director at RLA
New York, NY (PRWEB) October 08, 2013
Robin Leedy & Associates (RLA), a leading over-the-counter (OTC) health and beauty public relations and social media agency, has scored a hit with its brand new original music video "I'm Kegeling. Are You?" The video (http://youtu.be/v3_Iuaaym_I), created for DSE Healthcare Solutions, maker of the Cystex® brand of urinary health products (http://www.cystex.com), has had more than 38,000 views since it launched late summer (viral by YouTube standards, since only 10% of YouTube videos ever get more than 10,000 views). The video's purpose is to help take the stigma out of bladder health discussions and help position Cystex as the expert on bladder health, while driving Cystex® brand awareness against women 18-54.
"We are so pleased with the results, particularly that the initiative has contributed to doubling the brand's website traffic over the same high-usage period last year, creating excellent word-of-mouth," says Alyson O'Mahoney, executive vice president and creative director at RLA. "While it is part of the bigger Your Bladder Matters educational effort to key consumer influencers online – including a fun t-shirt giveaway on Facebook – the video is a major communication and conversation tool that gives women permission to talk about this private topic and shows how an efficient marketing spend can net great results for a niche OTC brand
The Cystex music video, which has had a whopping 87% completion rate, has also helped increase the brand's Facebook presence by 20%. "This shows great message targeting against the key audience for the brand," adds O'Mahoney. The video features original lyrics and music orchestration as well as animation. "It's actually a very catchy song that helps make it shareable and fun to watch," adds O'Mahoney. "We had a lot of fun producing it."
Learn more at http://www.cystex.com/yourbladdermatters.
About RLA:
Robin Leedy & Associates (RLA) is the premier communications agency specializing in over-the-counter (OTC) personal health, beauty and nutritional products. The full-service, independent, creative public relations and social media agency works in all channels and mediums – from traditional print and broadcast, to social networking and digital venues — to achieve measurable, impactful results and ROI that help move the needle on efficient, integrated marketing spends. The agency has offices in Mt. Kisco, NY, and Manhattan. For more information about the agency, visit http://www.rlapr.com.