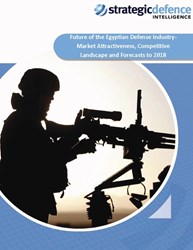 Rockville, MD (PRWEB) October 15, 2013
The Future of the Egyptian Defense Industry – Market Attractiveness, Competitive Landscape and Forecasts to 2018 offers the reader an insight into the market opportunities and entry strategies adopted by foreign original equipment manufacturers (OEMs) to gain market share in the Egyptian defense industry.
Egypt is a major non-NATO ally of the US and for the past three decades, has been receiving Foreign Military Financing (FMF) from the US, amounting to US$1.3 billion per year. This FMF is used to fund the majority of the country's capital expenditure and comes with a clause that requires the country to spend the entire amount on purchasing military equipment from American contractors. Egypt has used this financing to replace the majority of its aging Soviet and Chinese equipment with American military hardware and, as a result, the vast majority of its arsenal is produced by US. The preponderance of American military hardware also means that Egypt is reliant on contracts with US companies for the maintenance of its armed forces equipment. However, following the ousting of Egypt's elected President, Mohammed Morsi, through a military coup in 2013, the US is reviewing its FMF to Egypt. Nevertheless, the country's own defense budget is expected to increase over the forecast period, growing at a CAGR of 7.47%.
Although Egypt is safe from any threat of aggression from its neighbors, the perceived threat from Israel, along with the ongoing volatile political scenario of the country and ammunition modernization, are areas of focus for the military, and these factors are expected to drive and determine the country's defense expenditure during the forecast period.
The Future of the Egyptian Defense Industry – Market Attractiveness, Competitive Landscape and Forecasts to 2018 provides detailed analysis of the current industry size and growth expectations from 2014 to 2018, including highlights of key growth stimulators. It also benchmarks the industry against key global markets and provides a detailed understanding of emerging opportunities in specific areas.
To order this report:
Future of the Egyptian Defense Industry - Market Attractiveness, Competitive Landscape and Forecasts to 2018
Contact: Shauna
800.298.5699
Customerservice(at)marketresearch(dot)com
Strategic Defence Intelligence
Strategic Defence Intelligence provides a stream of continuously updated customer and competitor intelligence, as well as detailed research reports providing an unrivalled source of global information on the latest developments in the defence industry. Strategic Defence Intelligence's unique monitoring platform tracks global defence activity for over 2,500 companies and 65 product categories in real time and in a highly structured manner, giving a comprehensive and easily-searchable picture of all defence industry activity.
About MarketResearch.com
MarketResearch.com is the leading provider of global market intelligence products and services. With research reports from more than 720 top consulting and advisory firms, MarketResearch.com offers instant online access to the world's most extensive database of expert insights on global industries, companies, products, and trends. Moreover, MarketResearch.com's Research Specialists have in-depth knowledge of the publishers and the various types of reports in their respective industries and are ready to provide research assistance. For more information, call Cindy Frei at 240.747.3014 or visit http://www.marketresearch.com.
Follow us on Facebook: http://www.facebook.com/marketresearchdotcom
Follow us on Twitter: http://www.twitter.com/marketresearch_
Future of the Egyptian Defense Industry - Market Attractiveness, Competitive Landscape and Forecasts to 2018 – Table of Contents:
1 Introduction
2 Executive Summary
3 Market Attractiveness and Emerging Opportunities
3.1. Defense Market Size Historical and Forecast
3.1.1. Egyptian annual defense expenditure to reach US$6.4 billion by 2018
3.1.2. Perceived Threats, military modernization, peacekeeping operations, and domestic turbulence expected to drive the country's defense expenditure
3.1.3. Defense expenditure as a percentage of GDP is expected to decline during the forecast period
3.2. Analysis of Defense Budget Allocation
3.2.1. Share of capital expenditure to average 15% over the forecast period
3.2.2. Egypt to allocate US$4.2 billion towards defense capital expenditure over the forecast period
3.2.3. The country is expected to spend US$23.9 billion on revenue expenditure over the forecast period
3.2.4. Per capita defense expenditure to increase over the forecast period
3.3. Homeland Security Market Size and Forecast
3.3.1. Egypt faces considerable risk from external and internal threats
3.3.2. Egypt experienced considerable terror activity during the review period
3.4. Benchmarking with Key Global Markets
3.4.1. Egyptian defense expenditure expected to grow at a faster pace over the forecast period
3.4.2. Egypt has a relatively small defense budget
3.4.3. Egypt allocates 1.7% of its GDP for defense
3.4.4. Egypt faces a substantial threat from foreign terrorist organizations
3.5. Market Opportunities: Key Trends and Growth Stimulators
3.5.1. Fighters & Multi-role Aircraft
3.5.2. Diesel Electric Submarines
3.5.3. Transport & Utility Aircraft
4 Defense Procurement Market Dynamics
5 Industry Dynamics
6 Market Entry Strategy
7 Competitive Landscape and Strategic Insights
8 Business Environment and Country Risk
9 Appendix