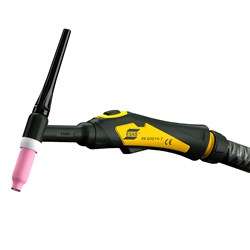 Florence, SC (PRWEB) October 07, 2013
ESAB Welding & Cutting Products introduces a new range of TXH™ GTAW (TIG) welding torches. This versatile family of torches has been developed with the needs of the welder in mind. ESAB's new TXH torches have a highly ergonomic design, are convenient to operate, and produce high quality results in all common GTAW applications.
The torches are designed for use with ESAB GTAW machines that have an OKC connection, including ESAB Caddy® Arc, Caddy® Tig, and Heliarc® 281i, 283i and 353i models. Remote versions will operate with CAN-bus controlled machines.
A range of air-cooled and water-cooled TXH torch packages are available, including remote versions. Flexible head versions ensure welding tasks can be carried out in difficult access areas, while the 401w HD torch is designed for heavy-duty applications up to 400A.
Electrode diameters range from .040 in. – 1/8 in. (1.0 – 3.2 mm) for the TXH 121 torch to .040 in. – 3/16 in. (1.0 – 4.8 mm) for the TXH 401w model. All torches comply with EN60974-7 GOST-R and CCC standards.
TXH torches can be specified with or without a gas valve and with or without a flexible neck, according to individual preference and intended usage.
The welding torch heads are lightweight and durable. They have a highly effective cooling system and are manufactured with high temperature-resistant silicone rubber. Copper components ensure cooler running temperatures, while maximizing the torch's current capacity and therefore welding performance.
TXH torches feature integrated dual soft grips to ensure the handle remains in place with minimal grip pressure. Positioning of the torch is made easier by the combination of knuckle joints and a flexible leather section covering the first 31.5 in. (800 mm) of the torch immediately behind the handle.
ESAB Welding & Cutting Products is a recognized leader in the welding and cutting industry. From time-honored processes in welding and cutting to revolutionary technologies in mechanized cutting and automation, ESAB's welding consumables, equipment, and accessories bring solutions to customers around the globe. For more information, visit http://www.esabna.com or call 1-800-ESAB123.