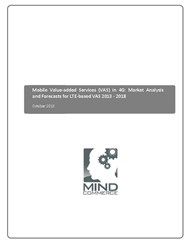 Rockville, MD (PRWEB) October 10, 2013
Mobile Value-added Services (VAS) in 4G: Market Analysis and Forecasts for LTE-based VAS 2013 – 2018 Telecommunications & Wireless
In the pre-LTE marketplace, the biggest mobile value-added services (VAS) are mobile apps and mobile advertising. This does not change simply with the introduction of LTE, as there will only be roughly 184 million LTE subscribers globally against 7.2 billion subs overall by year end 2013. A transformation will occur over a period of years in which certain key mobile VAS applications will establish a sustainable market position for the network operators. In fact, this must occur for carriers to establish new revenue streams for business growth beyond core voice and data services as well as anticipated margin squeeze.
Key Findings:
-Challenges to carrier business include existing concerns, such as Over-the-Top (OTT) service providers, as well as emerging threats such as Direct (Peer-to-Peer) Communications, which shall ironically be enabled via LTE;
-Network operators must deal with the threat of these "dial around" voice over wireless IP (or VoIP over Wireless OTT) OTT service providers by offering their own "dialable" VoIP. Dialable VoIP is enabled through Voice over LTE (VoLTE). Network operators must also offer Rich Communications Suite (RCS) as a multimedia VAS application to combat OTT competition. Carriers must also embrace API integration with various third-parties to offer their own VAS;
-It is our strong recommendation to incumbent carriers that they recognize that core bearer based revenues will go down over time. They must leverage LTE infrastructure and capabilities to offer their own differentiating capabilities including premium-priced VAS applications.
To order this report:
Mobile Value-added Services (VAS) in 4G: Market Analysis and Forecasts for LTE-based VAS 2013 – 2018
Contact: Shauna
800.298.5699
Customerservice(at)marketresearch(dot)com
Mind Commerce Publishing
The Mind Commerce® mission is to provide customized research, consulting, training, and writing services for the telecommunications and IT industry. Mind Commerce clients include manufacturers, developers, service providers, industry organizations, and government. Mind Commerce differentiates itself from its competition by meeting the unique needs of its clients through customized product development and service delivery.
About MarketResearch.com
MarketResearch.com is the leading provider of global market intelligence products and services. With research reports from more than 720 top consulting and advisory firms, MarketResearch.com offers instant online access to the world's most extensive database of expert insights on global industries, companies, products, and trends. Moreover, MarketResearch.com's Research Specialists have in-depth knowledge of the publishers and the various types of reports in their respective industries and are ready to provide research assistance. For more information, call Cindy Frei at 240.747.3014 or visit http://www.marketresearch.com.
Follow us on Facebook http://www.facebook.com/marketresearchdotcom
Follow us on Twitter http://www.twitter.com/marketresearch_
Mobile Value-added Services (VAS) in 4G: Market Analysis and Forecasts for LTE-based VAS 2013 – 2018 – Table of Contents:
1.0 Executive Summary
2.0 Introduction
3.0 Long Term Evolution (Lte)
4.0 Lte Value-added Services (Vas)
4.1 Assumptions About Mobile Subscriptions And Mobile Data
4.2 Mobile Data
4.3 Mobile Advertising
4.4 Api-based Apps Downloads
4.5 Social Networking/Matching
4.6 Coupons, Loyalty And Venue-based Services
4.7 Geo-location Based Services
4.8 Mobile Gaming
4.9 Mobile Virtual Goods
4.10 Video, Tv, Pay-tv And Second-screen
4.11 Mobile Health
4.12 Music Services (Including Ringback And Ringtones)
4.13 Machine-to-machine (M2m)
4.14 Connected Vehicles
4.15 Public Safety Lte
4.16 Messaging, Texting, And Sms (Not Related To Rcs)
4.17 Small Cell Targeted Advertising
4.18 Miscellaneous Subscription Services
4.19 Lte Vas Roll-up
5.0 The Most Actively Anticipated Vas: Volte
6.0 Rich Communications Suite (Rcs)
7.0 Prospects For Volte And Rcs Deployments By Region
8.0 Vendor Analysis
9.0 Conclusions And Recommendations
10.0 Glossary
11.0 Appendices
List of Graphs
List of Tables