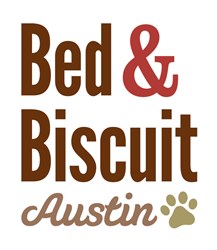 "In order to train the dog we have to train the owner as well. That's why we use a people-centered approach."- Kara Crawford Norton
Austin, Texas (PRWEB) October 10, 2013
Bed and Biscuit Austin has been a predominate name in dog care within the Texas capitol for nearly two decades. The company is pleased to announce that in addition to their boarding, grooming and dog daycare services they are now also offering dog training.
Owners can choose to do dog training sessions in either a private or semi-private session at the Bed and Biscuit Austin facilities. All classes and sessions will include both the owner and the dog. The dog training services take a unique approach of giving the majority of attention to teaching the owner first and foremost.
"Dogs don't communicate in the same way we humans do," said Kara Crawford Norton, owner of Bed and Biscuit Austin. "In order to train the dog we have to train the owner as well. That's why we use a people-centered approach. We first teach the owner the fundamentals of how a dog thinks and processes information then we build from there."
Bed and Biscuit Austin is offering a wide range of services that include:

Puppy Parenting 101
Dog Training Fundamentals
Basic Tricks
Advanced Dog Training
FREE SEMINAR
In addition to the paid dog training services, Bed and Biscuit Austin is also offering a free seminar for all interested dog owners. The one-hour seminar will discuss how dogs learn and provide owners with a foundation for better understanding how to communicate with their dogs effectively.
For more information on the free seminar as well as other Bed and Biscuit Austin dog training services, please visit: http://www.bedandbiscuitaustin.com/dog-training/.
About Bed and Biscuit Austin
Founded in 1994, for nearly two decades now Bed and Biscuit Austin has been helping dog owners better care for their pets even when they are away from home. The company differentiates itself from similar businesses by taking dogs' behavior, psychology and emotional needs into consideration when shaping their services. Bed and Biscuit Austin offers a full range of services that include boarding, dog daycare, grooming, dog day school and dog training. Their facilities incorporate both free roam and enclosed areas that are monitored by a knowledgeable staff.