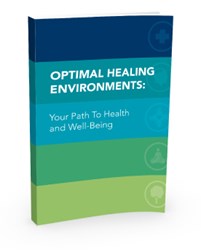 Alexandria, VA (PRWEB) October 08, 2013
Samueli Institute, a research non-profit dedicated to exploring the science of healing, today delivered on a commitment to help millions of people live healthier lives with the launch of a new whole-person healing resource, Your Healing Journey. The resource, which includes an e-book as well as instructional videos online, translates more than a decade of research into a framework of self-care. The launch of Your Healing Journey online at http://www.SamueliInstitute.org/inspire fulfills the commitment made by Samueli Institute to the Clinton Foundation's Clinton Health Matters Initiative (CHMI) in January, 2013. CHMI works to improve the health and well-being of people across the United States.
"With the launch of Your Healing Journey Samueli Institute expands its reach to begin to impact individuals directly," said Samueli Institute President and CEO Wayne B. Jonas, M.D. "Large organizations, such as the U.S. military, VA and other major health care systems, have benefited from Samueli Institute's research for many years. I am grateful to the Clinton Health Matters Initiative for the opportunity to provide our evidence-based approach to whole-person care directly to individuals and their communities."
Your Healing Journey is available as a free download from the Samueli Institute website, http://www.SamueliInstitute.org/inspire, and will be distributed in physical form by Clinton Foundation staff in their initial communities of focus: Coachella Valley, California; Little Rock, Arkansas; Jacksonville, Florida and Houston, Texas.
Samueli Institute drew from its research into Optimal Healing Environments to build the framework shared in Your Healing Journey. The book explores how small changes in daily habits can increase and optimize an individual's healing potential. Your Healing Journey includes introductory information on nutrition, tai chi, yoga, keeping a healing journal, building healing relationships, and fostering ecological stability.
"We need to transition our health care system from a disease management model to a focus on wellness and whole person-healing," explains Jonas. "When individuals have the resources to draw upon their innate ability to heal and are supported in their efforts to build healthy lives, families and communities, only then will we see improvements in health outcomes and a decrease in health care costs."
Since 2001, Samueli Institute has developed research tools and services that provide rigorously developed and pragmatically delivered information about the many factors that affect wellness. This work has resulted in hundreds of research projects, peer-reviewed publications, presentations and scientific conferences.
Today, Samueli Institute is expanding its research base with a new emphasis on facilitating the integration and translation of research and experience into consultation, educational curriculum, worksites, communities and health care practices. The Institute's focus is on whole-person and whole-systems concepts and reflects the widespread awareness that evidence-based healing and health promotion practices present viable, less-costly and more effective wellness options. More information is available online at http://www.SamueliInstitute.org.
About the Clinton Foundation
The Bill, Hillary & Chelsea Clinton Foundation builds partnerships of great purpose between businesses, governments, NGOs, and individuals everywhere to deliver lasting solutions and empower people to live better lives. Because of our work, 18,000 American schools are providing kids with healthy food choices in an effort to eradicate childhood obesity; 21,000 African farmers have improved their crops to feed 30,000 people; 248 million tons of greenhouse gas emissions are being reduced in cities worldwide; more than 5,000 people have been trained in marketable job skills in Colombia; more than 5 million people have benefited from lifesaving HIV/AIDS medications; and members of the Clinton Global Initiative have made nearly 2,500 Commitments to Action to improve more than 430 million lives around the world.
Learn more at http://www.clintonfoundation.org, and on Twitter @ClintonFdn.