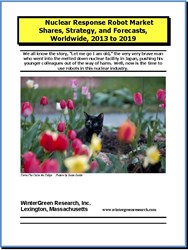 Rockville, MD (PRWEB) October 08, 2013
Nuclear Response Robot: Market Shares, Strategies, and Forecasts, Worldwide, 2013 to 2019
Nuclear response robots are being built as devices that can leverage rapid safe response in the industry.
According to Susan Eustis, lead author of the team that put the study together, "Until now, robot technology has not been robust enough to reasonably supplement human tasks in handling of nuclear situations. That is no longer the case, robots have sufficient mobility, size, sensors, and tooling to be effective in a variety of situations." Nuclear response robots are anticipated to have significant market growth as people in the industry begin to recognize the value of automated process in dealing with radiation.
Nuclear responder robots are mobile automated process platforms that are responsive to nuclear handling needs. They are emerging in the context of globalization and nuclear energy development. Nuclear robots are inherently local, they are used locally at nuclear energy installations and for materials handling where the materials may be radioactive. They are needed by personnel in particularly dangerous situations. Nuclear responder robots are evolving as specially designed ground robots used to address nuclear and defense needs to support managing radioactive materials.
Nuclear response robot market shares and market forecast analysis considers that the targeted robots have a new market based on robotic advances in size, mobility, sensors, and materials handling devices.
The move from a primary delivery with a cost structure that accounts for truck rolls to a portable device market is set to bring dramatic changes to the industry. For vendors that have relied on the distribution network and financing the distribution network, their hold on the market has shifted.
The nuclear responder robot markets are at $55 million in 2012 are anticipated to reach $1.1 billion dollars by 2019. Growth is a result of new interest in introducing automated process into nuclear markets.
To order this report:
http:// Nuclear Response Robot: Market Shares, Strategies, and Forecasts, Worldwide, 2013 to 2019
Contact: Shauna
800.298.5699
Customerservice(at)marketresearch(dot)com
About Wintergreen Reseach
WinterGreen Research, founded in 1985, provides strategic market assessments in telecommunications, communications equipment, health care, Software, Internet, Energy Generation, Energy Storage, Renewable energy, and advanced computer technology.
About MarketResearch.com
MarketResearch.com is the leading provider of global market intelligence products and services. With research reports from more than 720 top consulting and advisory firms, MarketResearch.com offers instant online access to the world's most extensive database of expert insights on global industries, companies, products, and trends. Moreover, MarketResearch.com's Research Specialists have in-depth knowledge of the publishers and the various types of reports in their respective industries and are ready to provide research assistance. For more information, call Cindy Frei at 240.747.3014 or visit http://www.marketresearch.com.
Follow us on Facebook http://www.facebook.com/marketresearchdotcom
Follow us on Twitter http://www.twitter.com/marketresearch_
Nuclear Response Robot: Market Shares, Strategies, and Forecasts, Worldwide, 2013 to 2019 – Table of Contents:
EXECUTIVE SUMMARY
1. NUCLEAR RESPONSE ROBOTS MARKET DESCRIPTION AND MARKET DYNAMICS
1.1 Nuclear Responders
1.1.1 Nuclear Industry Need for Robot Responders
1.2 Nuclear Response Robot Scope
1.2.1 Nuclear Response Robot Applications
1.3 Transition Between The Current Market And Where The Market Is Going
1.3.1 Nuclear Response Robot Reconnaissance
1.3.2 Recharging The Robot's Batteries
1.3.3 Specialized Tools
1.3.4 Nuclear Response Robot Mission Control
1.4 Different Sizes of UGVs
1.4.1 Types of First Responder Robots
1.4.2 Telerob Explosive Observation Robot and Ordnance Disposal
1.4.3 QinetiQ North America Talon® Robots Universal Disrupter Mount
1.4.4 General Dynamics Next-Generation CROWS II Increases First Responders Safety
1.4.5 First Responder Unmanned Ground Vehicle from iRobot
1.5 UGV Enabling Technologies
1.5.1 Sensor Processing
1.5.2 Machine Autonomy
1.6 First Responder Robot Bandwidth
1.6.1 UGV Follow-Me Capability
1.6.2 Communications Bandwidth
1.6.3 Battery Power
1.6.4 Combination Of Batteries Linked To Onboard Conventional Diesel
1.7 SUGVs
1.7.1 Mid-Size Category UGV
1.7.2 Large UGV
1.7.3 Ground Combat Vehicle
1.7.4 TARDEC
1.7.5 Tacom
1.8 Robots Delivering Offensive and Defensive Capabilities to SWAT Teams
2. NUCLEAR RESPONSE ROBOTS MARKET SHARES AND FORECASTS
3. ROBOTS FOR THE NUCLEAR INDUSTRY: PRODUCT DESCRIPTION
4. NUCLEAR RESPONSE ROBOT TECHNOLOGY
5. NUCLEAR RESPONSE ROBOTS COMPANY DESCRIPTION