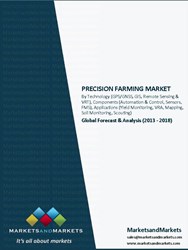 Rockville, MD (PRWEB) October 09, 2013
Precision Farming - Global Forecast and Analysis (2013 - 2018)
The global population is expected to rise up to nearly 7.5 billion by the year 2020, and the ability to manage and tackle the ever increasing demand for food would, in all likelihood, continue to plague the world. Global warming continues to be an influential deciding factor in determining agriculture productivity, as well as the soil properties, and sustainability of natural resources. The effect of climate change on agriculture is related to variability in local climates rather than the global climate patterns.
All these concerns marked the way for the entry of the new world of agriculture management practices. Precision farming can significantly reduce the amount of nutrient and other crop inputs used while boosting yields. Farmers, thus, obtain a return on their investment by saving on phytosanitory and fertilizer costs. The second large-scale benefit of targeting inputs in spatial, temporal and qualitative terms reduce concerns of environmental impacts.
The growth of market is expected to be remarkable, and it estimated to reach $3.72 million by 2018, at an estimated CAGR of 13.36% from 2013 to 2018. The major players in this industry are Deere & Co. (U.S.), Trimble Navigation (U.S.), Topcon positioning systems (U.S.), Raven Industries (U.S.), Precision Planting (U.S), AGCO (U.S.), and so on.
The major drivers for this market are augmented yield & profitability, which are the major contributing factors for farmers to go for precision farming; other drivers like energy & cost saving, and government assistance have also been contributing to the market growth. Major restraints like high initial investments, and lack of awareness and their impact analysis are also covered under this study. North America, currently, leads the market share for precision farming as this region has the maximum adoption. APAC is the emerging market for precision framing and has been enjoying the highest growth rate among all the geographic regions. It is believed that the APAC market will grow at a CAGR of 25.16% from 2013 to 2018.
To order this report:
Precision Farming Market by Technology (GPS/GNSS, GIS, Remote Sensing and VRT), Components (Automation and Control, Sensors, FMS), Applications (Yield Monitoring, VRA, Mapping, Soil Monitoring, Scouting) - Global Forecast and Analysis (2013 - 2018)
Contact: Shauna
800.298.5699
Customerservice(at)marketresearch(dot)com
About MarketsandMarkets
The MarketsandMarkets edge: Worldwide, market research reports are primarily sold for numbers, market segmentation and competitive landscape, within the business leaders.
The analyst working with MarketsandMarkets come from the renowned publishing houses and market research firms globally adding their expertise and domain understanding. We get the facts from over 22,000 news and information sources, a database of hundred thousands of key industry participants and draw on our relationship with more than 900 market research companies globally.
In course of our ongoing relationship with research partners for over a period of three years, our clients have discovered that we can not only head-start any given research project immediately but also execute it in a stipulated time frame. We always prioritize our commitments of confidentiality. The fact that a high percentage of our business comes from client referrals bears ample testimony to the quality of our market research reports.
About MarketResearch.com
MarketResearch.com is the leading provider of global market intelligence products and services. With research reports from more than 720 top consulting and advisory firms, MarketResearch.com offers instant online access to the world's most extensive database of expert insights on global industries, companies, products, and trends. Moreover, MarketResearch.com's Research Specialists have in-depth knowledge of the publishers and the various types of reports in their respective industries and are ready to provide research assistance. For more information, call Cindy Frei at 240.747.3014 or visit http://www.marketresearch.com.
Follow us on Facebook http://www.facebook.com/marketresearchdotcom
Follow us on Twitter http://www.twitter.com/marketresearch_
Precision Farming Market by Technology (GPS/GNSS, GIS, Remote Sensing and VRT), Components (Automation and Control, Sensors, FMS), Applications (Yield Monitoring, VRA, Mapping, Soil Monitoring, Scouting) - Global Forecast and Analysis (2013 - 2018) – Table of Contents:
1 Introduction
2 Executive Summary
3 Cover Story
4 Market Overview
5 Global Precision Farming Market By Technology
5.1 Introduction
5.2 Guidance Systems
5.2.1 Global Positioning System (Gps)
5.2.1.1 Gnss Technology Accuracy Levels
5.2.1.2 Gnss Application In Precision Farming
5.2.2 Geographic Information System
5.2.2.1 Gis Adoption Analysis For U.S.
5.3 Remote Sensing
5.3.1 Handheld
5.3.1.1 High Usage Of Handheld Sensors
5.3.2 Satellite
5.3.2.1 Types Of Satellite Remote Sensing Images
5.4 Variable Rate Technology (Vrt)
5.4.1 Variable Rate Fertilizer
5.4.2 Variable Rate Pesticide
5.4.3 Variable Rate Seeding
5.4.3.1 Variable Rate Seeding Expected To Have Highest Growth Rate
6 Global Precision Farming Market By Hardware & Software Components
7 Precision Farming Marketby Application
8 Global Precision Farming Market By Geography
9 Competitive Landscape
10 Company Profile (Overview, Products And Services, Financials, Strategy & Development)