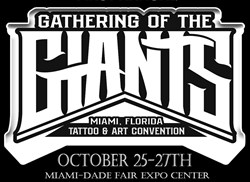 Miami, FL (PRWEB) October 08, 2013
ATV Corp. announced today that its first annual tattoo convention, Gathering of the Giants, will feature big names from around the country such as Joey Tattoo (from Spike TV's Tattoo Rescue) and Katherine "Tatu Baby" Flores (from seasons 2 and 3 of Spike TV's Inkmaster) and over 100 other artists from around the country. The convention promises to showcase the art and culture of tattooing with a focus on merging west coast traditions with east coast influences. With the development of the art scene in Miami, ATV Corp. is aiming to inject tattoo art into the forefront this month. Gathering of the Giants is also bringing 24 lowrider cars for static display at the convention.
A Halloween costume contest with a $1000 grand prize will be held at the convention on Saturday the 26th—judging will take place at 8:00pm. Daily tattoo contests will also be held and judged by a panel of four judges live at the convention. Free entry and trick-or-treating at the booths for children in costumes under 12 will be held on Sunday all day. There will also be a fusion art auction, which will be comprehensive works by four of the featured artists at the convention—proceeds will benefit the Make a Wish Foundation in conjunction with The Power of Ink.
Live entertainment at the event will include the Gathering of the Giants "Day of the Dead" girls and local DJs spinning live. Media coverage will be on scene, as well as the filming of a documentary by the Colombian station RCN Noticias.
The first annual Tattoo convention will be held at the Miami Dade County Fair and Expo Center in the Fuchs Pavilion located at 10901 SW 24 Street Miami, FL 33165.
The schedule for the convention is:

October 25th: 4:00pm – 11:00pm
October 26th: 12:00pm – 11:00pm
October 27th: 12:00pm – 8:00pm
Ticket prices are as follows:
o General Admission: $20
o Veteran Admission: $12
o Children (12 & under): $10
Weekend Admission (3 Day)
o General Admission: $50