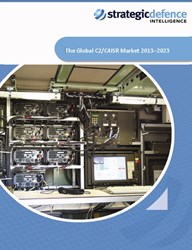 Rockville, MD (PRWEB) October 10, 2013
The Global C2/C4ISR Market 2013–2023
"The Global C2/C4ISR Market 2013–2023" offers the reader detailed analysis of the global C2/C4ISR market over the next 10 years, alongside potential market opportunities to enter the industry, using detailed market size forecasts.
Even though countries are cutting their defense budgets across the globe, or increasing them at a marginal pace, C2/C4ISR spending it poised to rise significantly. This is primarily due to the important role these systems play in modern warfare. The move towards a greater international presence by the European Union (EU) and NATO forces, coupled with a desire for interoperability, has compelled Europe's governments to increase their spending in most sectors of the C2/C4ISR market. Strategic communications is the segment of the European C2/C4ISR market which is predicted to record maximum growth over the next decade, as nations such as Germany, France, Italy and the UK invest in key communications programs.
In today's volatile world with threats from various fundamentalist terrorist groups and rogue nations, governments are striving to protect the security of their respective countries through the use of various land, space and aerial C4ISR systems. These systems help monitor national borders and disputed territories without the need for being physically present at the location and also enable real time information sharing in order to facilitate accurate decision making at military central commands by utilizing platforms such as satellites, UAVs, radars and associated sensors and other communication devices.
Today overall mission effectiveness increasingly depends upon C4ISR systems and services as modern warfare becomes more asymmetric in nature and thus increases the need for information gathering and subsequent sharing. The range of technologies available with respect to C2/C4ISR systems is increasingly diverse and their rapid evolution is driving demand for global C4ISR systems.
To order this report: The Global C2/C4ISR Market 2013–2023.
Contact: Shauna
800.298.5699
Customerservice(at)marketresearch(dot)com
Strategic Defence Intelligence
Strategic Defence Intelligence provides a stream of continuously updated customer and competitor intelligence, as well as detailed research reports providing an unrivalled source of global information on the latest developments in the defence industry. Strategic Defence Intelligence's unique monitoring platform tracks global defence activity for over 2,500 companies and 65 product categories in real time and in a highly structured manner, giving a comprehensive and easily-searchable picture of all defence industry activity.
About MarketResearch.com
MarketResearch.com is the leading provider of global market intelligence products and services. With research reports from more than 720 top consulting and advisory firms, MarketResearch.com offers instant online access to the world's most extensive database of expert insights on global industries, companies, products, and trends. Moreover, MarketResearch.com's Research Specialists have in-depth knowledge of the publishers and the various types of reports in their respective industries and are ready to provide research assistance. For more information, call Cindy Frei at 240.747.3014 or visit http://www.marketresearch.com.
Follow us on Facebook http://www.facebook.com/marketresearchdotcom.
Follow us on Twitter http://www.twitter.com/marketresearch_.
The Global C2/C4ISR Market 2013–2023 – Table of Contents:
1 Introduction
2 Executive Summary
3 Global C2/C4ISR Market Size and Drivers
3.1 C2/C4ISR Market Size and Forecast 2013–2023
3.1.1 Global C2/C4ISR market forecast to register a nominal increase over the forecast period
3.2 Global C2/C4ISR Market – Regional Analysis
3.2.1 North America constitutes the majority share in the global C2/C4ISR market
3.2.2 Surveillance and Communication products are expected to dominate overall spending on C4ISR systems in North America
3.2.3 Demand for C2/C4ISRs systems in Europe expected to increase despite the defense budget cuts
3.2.4 Military C4ISR market in the Asia-Pacific region is expected to maintain consistent levels of growth over the forecast period
3.2.5 Middle Eastern C2/C4ISR market to be robust during the forecast period
3.2.6 Brazil to dominate the C2/C4ISR market in Latin America
3.2.7 African markets expected to witness a gradual increase in military C2/C4ISR spending over the forecast period
3.3 C2/C4ISR Sub–Sector Market Size Composition
3.3.1 Land-based systems expected to constitute the largest share of the global C2/C4ISR market
3.3.2 Land-based C2/C4ISR systems to witness sustained investment throughout the forecast period
3.3.3 Airborne C2/C4ISR systems to form the second largest market segment over the forecast period
3.3.4 Expenditure on space-based C2/C4ISR systems expected to rise at a CAGR of 1.35% over the forecast period
3.3.5 Market for naval C2/C4ISR systems expected to record a decline during the forecast period
3.4 Demand Drivers and Growth Stimulators
3.4.1 Global need to shorten mission cycle time to fuel global demand
3.4.2 Increased importance in modern warfare to drive demand
3.4.3 Rise in asymmetric warfare, counterinsurgencies and global terrorism
3.5 Defense Budget Spending Review
3.5.1 European capital expenditure expected to increase during the forecast period
3.5.2 Asian defense budgets expected to increase at a robust pace
3.5.3 North American defense expenditure projected to decline marginally during the forecast period
3.5.4 Modernization programs likely to drive defense expenditure in South American countries
3.5.5 Military budgets of African countries expected to increase during the forecast period
3.5.6 Middle Eastern defense budgets are likely to increase during the forecast period
3.6 Defense Modernization Review
3.6.1 Debt crisis in Europe leading to the postponement of modernization plans
3.6.2 Arms race in Asia reflected in modernization plans
3.6.3 North American modernization plans marginally affected by economic recession
3.6.4 Modernization programs in South America driven by replacement of obsolete armaments
3.6.5 African countries mainly spending on infantry weapons, and surveillance and monitoring equipment to slow growing crime rate
3.6.6 Middle Eastern countries pursuing modernization of Air Force and air defense systems
4 Industry Trends, Recent Developments, and Challenges
5 SWOT Analysis of the C2/C4ISR Market
6 Country Analysis – C2/C4ISR Market
7 Major C2/C4ISR Programs
8 Competitive Landscape and Strategic Insights
9 Appendix