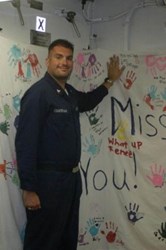 We plan to keep this car as long as we can, and we couldn't afford to have this kind of work done on our own. -- Ray Countrman
Trevose, PA (PRWEB) October 07, 2013
Ray Countryman of Blackwood, NJ, a soft-spoken Navy veteran of the war against terrorism who suffers from post-traumatic stress disorder, has been named the latest winner of CollisionMax's Metal of Honor project.
Free of charge, CollisionMax of Blackwood will repair and repaint Mr. Countryman's red 2002 Mazda Protégé hatchback, which is the only vehicle he and his wife use to make a daily round trip commute of nearly 100 miles to their jobs in New Jersey and Pennsylvania. The car has more than 200,000 miles on it, and needs the repair of numerous dents, a cracked rear bumper, the replacement of a fog lamp shot out by a BB gun, the replacement of a steering wheel sawed through in a burglary attempt and a complete paint job.
"It's been a great car, but we recently went $3,000 into debt to fix the brakes and bearings and put new tires on it, and we just don't have the money to do the body work," Mr. Countryman explained.
Mr. Countryman, 29, served for eight years in the U.S. Navy on three different destroyers from 2003 through 2011. Although his principle job was as an electronics technician, he was trained to use firearms to secure the ship. He said he suffers from post-traumatic stress syndrome as the result of multiple seaborne combat operations during anti-piracy patrols.
"I enlisted after 9/11 because I wanted to serve my country, even though I'm a kind of pacifist by nature," Mr. Countryman related. "I figured that as an electronics technician, I could serve without having to shoot at anybody, but that didn't turn out to be the case. I don't know if I ever killed or wounded anyone, but I was in combat where I shot at people, and men on both sides were killed and wounded."
Although he was able to land a job with an electronics company in Pennsauken shortly after he was discharged, the trauma he suffered has kept him in psychological therapy for the past two years. "It's really helped, my therapist is great," he said.
Until recently the family's only breadwinner, his wife, Myra – who nominated him for the award – started a job two months ago with Comcast in Horsham, PA, to help make ends meet. The couple have two children, Alyssa, 21, who is enrolled in a community college, and a son, Matthew, 16, who is in high school.
"This award is going to help us immensely," he said. "We plan to keep this car as long as we can, and we couldn't afford to have this kind of work done on our own."
Through its Metal of Honor project, CollisionMax will give away auto body repairs to 11 US military veterans, one per month for each of its locations in the Delaware Valley. The company chooses the winner from nominations it receives from the public on the project's web site, http://www.metalofhonorproject.com. The company is now accepting nominations for a veteran from the Westmont, NJ area.
"The Metal of Honor Project is our way of saying thank you and honoring the men and women of our armed forces who put their lives on the line for all of us," said Jim Tornetta, CollisionMax and president and CEO.
In New Jersey, CollisionMax operates shops in Blackwood, Cinnaminson, Glassboro, Marlton , Pennsauken, Sicklerville and Westmont. In Pennsylvania, it has repair centers in Oxford Valley, Warminster and two in Northeast Philadelphia (both on West Grant Avenue). For information about ColllisionMax, please visit http://www.collisionmax.com.