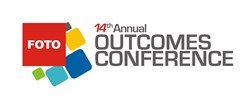 95% of last year's attendees recommend their colleagues attend the conference.
Knoxville, TN (PRWEB) October 10, 2013
The Outcomes Conference is intended to bring FOTO clients and industry leaders together to learn from one another about how to better gather and use outcomes data. This will be the 14th year FOTO has hosted the meeting, and it is growing every year
The meeting consists of presentations by FOTO clients, on topics ranging from how to better implement outcomes data collection to how to use the data gathered to improve patient care. Based on responses from previous participants, more networking time has been built into the program along with additional opportunities for one on one time with FOTO staff.
A new addition to the meeting in 2013, which was a great success, was the addition of scientific presentations on relevant topics by members of the FOTO Research Advisory Board. The 2014 conference will have Karon Cook, PhD from Northwestern University Feinberg School of Medicine presenting about how Computer Adaptive Testing is developed, why it is important, and the future of CAT development. Additionally, Julie Fritz, PT, PhD, ATC, from the University of Utah, will present on studies that have been done measuring the most effective and efficient treatments for low back pain.
"The Outcomes Conference is the highlight of the year for FOTO! It is a great time to connect with clients and others interested in outcomes," states FOTO's President, Al Amato, PT, MBA.
The conference kicks off with a reception and networking opportunity at 6 PM on Friday, April 4th. The conference concludes at 12 PM on Sunday, April 6th. The meeting is hosted in Knoxville, where FOTO's corporate office is located. It is a beautiful time of year and the location and timing offers lots of fun recreation when the conference is not is session.
About FOTO:
FOTO is a Knoxville, TN, based corporation that has been continuously improving solutions that efficiently and reliably measure and report functional outcomes for the Rehab industry for 20 years. FOTO's web-based solutions are risk-adjusted to enable fair and accurate measurement and predictions of the expected improvement in a patient's functional status. Approximately 5 million patient surveys have been compiled in the FOTO database, and researchers have utilized FOTO data to publish over 85 articles on functional outcomes in refereed medical journals. These publications have led the way in enhancing the science of measuring outcomes and the use of outcomes in payment methodologies. FOTO is considered the standard in measuring functional outcomes in Rehabilitation.
For detailed information about FOTO's products and services, visit FOTO or contact Judy Holder at 1-800-482-3686 x238.