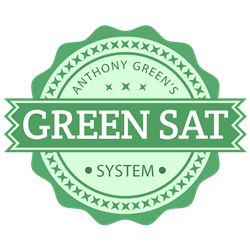 Student who work online are learning, rather than being "taught at."
New York, NY (PRWEB) October 07, 2013
Anthony-James Green, founder and acclaimed SAT tutor, has determined, through both his own in-person tutoring sessions and through the work he has done with his Green SAT online prep program, that students achieve higher scores when they work online as opposed to when they work with a tutor in person.
Students who study the SAT online and at their own pace are more engaged in their learning because they teach themselves the concepts and work through the problems themselves as opposed to replicating what a tutor has demonstrated to them.
"Students who sit in SAT classes or work with SAT tutors are not as engaged in the learning process as they should be," said Green SAT System founder Anthony-James Green. "They're likely being 'taught at' and aren't actually building the skills they need to really improve their scores. No one will be there to coach these students on exam day. They need to learn how to problem-solve and maneuver through the exam on their own. My proven online SAT software teaches them how to do that and, more importantly, how to do it on their own."
The College Board released a statement in September outlining its concerns about the low national average for recent SAT scores, which have been hovering around 1498 (out of a possible 2400) for the past five years. Most high schools offer some version of in-person SAT classes or SAT tutoring, but these are obviously not getting the job done. No other programs whether online or in-person can offer an average score improvement of nearly 400 points. The Green SAT System is providing students with an average score improvement of over 385 points.
Past reports by CBS and the Wall Street Journal state that SAT prep programs are not providing students and parents the results they're seeking. The Green SAT System is backed by a 21-day guarantee for people who are not completely satisfied with their results.
Parents and students interested in learning more about the Green SAT Prep System can do so via the following URL:
About the Green SAT System:
Developed using more than 10,000 hours of hands-on SAT tutoring experience, the Green SAT System uses a unique approach to help its students excel. Unlike most programs, the system forces students to be their own teachers, providing them a deep understanding of their own strengths and weaknesses and then giving them time-tested strategies and tactics to amplify their performance.
The Green SAT System offers a 30-day program for students who need last-minute prep and a 60-day program for students with more time to study. Both programs allow the student to set the schedule, can be accessed from any internet-connected device, and come with all of the necessary materials to complete the program. The Green SAT Prep System comes with a 21-day, no-questions-asked guarantee: users who aren't satisfied with the program for any reason have 21 days from the time of purchase to request a refund via email.
About Anthony-James Green:
Anthony-James Green is known as New York's Best SAT Tutor. He currently divides his time between New York and Los Angeles, where he tutors full time when not improving the Green SAT System. Visit http://www.NewYorksBestSATtutor.com to find out more about his tutoring successes and background.
###