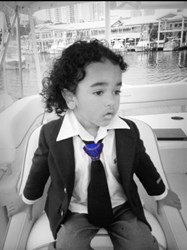 It's so easy to adjust, even a 3-year-old can do it.
Miami, Florida (PRWEB) October 08, 2013
A photo session with a 3-year-old and the realization that he and his mother did not know how to make a proper knot in a tie led to the invention of the Insta-Knot, a two-piece adjustable tie that is both a fashion statement and a breeze to wear.
Insta-Knot VP Marcia McManus took her son, Timothy, to a photo shoot where she wanted him to wear a tie. "I saw Jennifer Aniston's GQ photo cover where she wore only a tie, it inspired me and I wanted to duplicate the look for my son in his diaper," Marcia said. "When I got to the photo studio I didn't know how to tie a tie, and the photographer needed to help me. Several weeks later, after speaking to friends, I found out that a lot of guys have the same problem. I decided to find a way to resolve this issue and make it easy, adjustable, elegant and interchangeable for the end wearer."
Marcia's solution is the innovative Insta-Knot, a two-piece ensemble that allows nearly unlimited mix and match choices and can be put on by most wearers in 30 seconds or less. "It's not a clip-on tie, and it's not a zip-on, Marcia said. "It's so easy to adjust, even a 3-year-old can do it. Seeing is believing, so please watch our video for yourself."
It's not just 3-year-olds who need help with their ties. "A lot of men don't wear ties all the time, and then when they have to wear one, they find it a difficult task," Marcia explained. "Another perfect Insta-Knot customer is the older gentleman whose fingers are not so nimble anymore. Insta-Knot makes it easy for them. Or another common use is for work, schools, churches, or custom design for Red Carpet Events, prom and weddings." The 2013 Inpex Trade Show for Inventors gave Marcia The Gold Medal Award of Merit for Insta-Knot.
Insta-Knot's two-piece design can be used to create traditional single color ties or more daring mix and match combinations. "There are so many possibilities to create your own fashion statement and be a trend setter, " Marcia said. "We even have a special Insta-Knot and tie for pilots, TSA and cruise line employees. This design has never been done before in the industry; it has a gold or silver braid on the Insta-Knot to match the stripe or braid pattern on their uniforms. We look forward to working closely with these industries to help make this a distinguished uniform design."
Part of Insta-Knot's launch is their Indigogo crowd funding campaign. "We're offering some cool Insta-Knot incentive rewards to contributors, including mention in our Insta-Knot Hall of Fame on our web site and some Insta-Knot tie and knot combinations." Marcia says.
Visit the Indigogo campaign at:
http://www.indiegogo.com/projects/3-year-old-ceo-launches-instaknot-tie-tie-knot.
What is 3-year-old Timothy's role as CEO of Insta-Knot? Until he reaches legal age, Marcia will be making all the company decisions. "At this time he's the company spokesmodel, our goodwill ambassador, and the face of Insta-Knot," Marcia said. "As America's youngest entrepreneur, Timothy is rebuilding America by creating jobs in the retail environment with each tie and Insta-Knot purchased. We are thankful to everyone who gave us support on this project."
Contact Marcia McManus at 561-907-8382 to learn more about Insta-Knot.