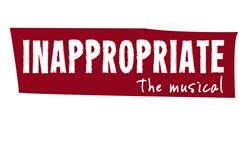 We decided to partner with Kickstarter to connect with fans who were deeply affected by INAPPROPRIATE and who might want to support its journey home.
Los Angeles, CA (PRWEB) October 08, 2013
13 years ago a musical entitled INAPPROPRIATE with a book by Michael Sottile and Lonnie McNeil, premiered Off-Broadway. Created from the journal entries and poetry of teenagers, INAPPROPRIATE is a pop rock musical that deals with current issues that teenagers face. This is a "groundbreaking rock musical." American Radio Network called it "unexpectedly inspiring." NY Post called it "a heartening rock musical." The production offers inspiring portraits of adolescent courage and transformation"- The Village Voice, "Defiant and honest. The musical charts a journey from the unknown into darkness and on toward hope." Los Angeles Times
From November 14-24, 2013, Big Block Theatrical is bringing this inspiring musical back to the stage as it presents a workshop at LA's Odyssey Theatre . INAPPROPRIATE recently launched a Kickstarter campaign inviting all those who were fans of the show when it premiered and the many who have been affected by it since to join the journey from LA to a full production in New York City. As well as garnering support for the show's fans, this campaign will help defray the workshop costs and help bring the show to NYC.
One of the last musicals to perform on the old Theatre Row, INAPPROPRIATE ran off-Broadway to much acclaim in 2000 and was extended multiple times. During the run, the show and its message were featured on both the "Today Show" and the "Queen Latifah Show."
As part of the interactivity, some of the Kickstarter rewards include lunch with Broadway and film producers, a one-on-one with celebrated choreographer Ray Leeper to an associate producer's credit for future productions (and actually steal for only $10,000, on Broadway that title will go for at least $100K). With the excitement about INAPPROPRIATE and its journey East has caught the attention of the Kickstarter Documentary who have at has been following the production team around documenting their progress.
"We decided to partner with Kickstarter in order to connect with former fans of the show who might not know that the musical was being brought back. We felt that it would be a great way to reach those fans who were deeply affected by the project, and who might want to support its upcoming workshop. Kickstarter allows backers to be a part of the project for just $1. As much as we hope to reach and exceed our financial goal, connecting with former and new fans of the project is the most desired goal." -- Jamie Bendell, Big Block Theatrical
With this partnership, Big Block Theatrical is exploring how to maximize creative output with current technology, such as Kickstarter. By highlighting the elements of crowd-funding, Big Block Theatrical looks to build a loyal and dedicated fan base, while examining the marketplace to see if there is enough viable financial and an interested base to help launch theatrical projects of this scale.
INAPPROPRIATE has a book by Michael Sottile and Lonnie McNeil (Eubie!, Ain't Misbehavin', Bubbling Brown Sugar); music and lyrics by Michael Sottile (Torch Song Trilogy, JOAN., Snowman In The Dunes), co- directed by Michael Sottile & Ray Leeper, choreography by Ray Leeper ("So You Think You Can Dance," "The X Factor") and musical direction by Keith Harrison(The Boys From Syracuse, Million Dollar Quartet). INAPPROPRIATE will begin on November 14 through November 24 at LA's Odyssey Theatre (2055 S. Sepulveda Blvd) tickets are $25 and can be purchased by visiting Plays411.com.
The talented young cast includes: Brenna Bloom, Grant Jordan, Chase O'Donnell, Lexy Panterra, Honey Ribar, Marco Ramos, Austin Scott, Aaron Scheff, Benjamin Shuman, Aliya Stuart, Charlotte Mary Wen. Creative team includes: Lighting & Projections Design by Marc Brickman (Young Frankenstein, Blue Man Group), Lighting & Projection Design by Dietrich Juengling, Sound Design by Martin Carrillo (J.O.B. the Hip Hopera: LA Ovation Award Nom, Antebellum New Orleans 1836:LA Ovation Winner), Set Design by Ellen Rousseau (The Weight of Water), Costume Design by Shane Ballard, Musical Arrangement by Peter Keisewalter (upcoming The Hills Are Alive), Vocal Design by Ann Marie Milazzo (Next to Normal, Spring Awakening).
Click here to be part of the very "INAPPRORIATE" Journey.
INAPPROPRIATE
Runs November14 - 24, 2013
At LA's Odyssey Theatre (2055 S. Sepulveda Blvd)
Performance schedule: Thursday – Saturday at 8PM; Sunday at 3PM
Tickets are $25 and can be purchased by visiting Plays411.net
For full bios and more information please visit http://www.InappropriateTheMusical.com.
Like INAPPRORIATE on http://www.facebook.com/inappropriatethemusical
Follow INAPPRORIATE on Twitter: @ruINAPPROPRIATE