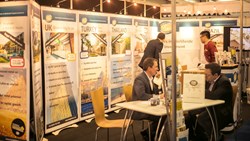 The Property Investor Show labelled Knight Knox International as 'an excellent example of the exhibiting companies who specialise in buy-to-let.'
London, UK (PRWEB UK) 8 October 2013
Having been a proud supporter of the show for a number of years, Knight Knox International find that the show's investor focus is of particular advantage to an investment company like themselves, ensuring that consistent attendance at the show is a 'must.'
With the Property Investor Show labelling the property investment firm as 'an excellent example of the exhibiting companies who specialise in buy-to-let,' they will be showcasing their best new investment opportunities on Stand 400.
Taking on board the detailed enquiries and feedback received at this April's event, the company will once again be showcasing their buy-to-let investment properties across the UK, in addition to high-yielding student accommodation projects in popular student cities across the country like Manchester and Glasgow, both of which were ranked within the top three in Zoopla's Top 10 highest yielding buy-to-let university towns and cities from their September 2013 report.
Alongside UK buy-to-let investments, with approximately 40% of the show being dedicated to international property, the firm will also be showcasing a diverse choice of properties from their overseas portfolio, including tenanted condos and coastal land plots in Florida, luxurious Thai apartments at foreign ownership prices, investment properties in Istanbul and social housing opportunities in Brazil.
Knight Knox International have been preparing for a number of months for the show, and you can see all the hard work they have put into the show on a live stream of CoverItLive updates, which will detail their progress at the exhibition as it happens, exclusively on their website.
New investors and previous clients will have the opportunity to set up meetings with a Knight Knox International representative to discuss their investment opportunities in detail and they advise people to act quickly, as meeting requests with the team have already begun to flood in from visitors to the show.
Please contact Knight Knox International on 0161 772 1370 or email exhibitions(at)knightknox(dot)com for your free tickets and to set up a meeting with a member of the team.
Market leaders in worldwide property investments, Knight Knox International offers an extensive range of property and services on a global scale, from beach-front condos in Thailand and Turkey, to prime coastal land in Florida and boutique student accommodation and new-build residential projects in the UK.
If you would like to discuss further opportunities within the property market, please contact Knight Knox International on +44 (0)161 772 1370 or visit the website to view the full range of properties available.