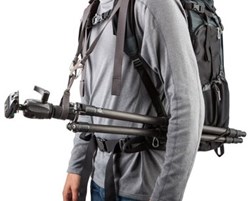 Santa Rosa, Calif. (PRWEB) October 09, 2013
MindShift Gear's Tripod Suspension Kit allows outdoor photographers and other outdoor enthusiasts hands-free mobility and instant accessibility to tripods and monopods. Custom aluminum hardware attaches the tripod to a backpack shoulder harness with a set of easily adjustable straps.
With the tripod collar buckle doubled back and securely attached to a tripod, the two adjustable straps easily hold the weight of a large tripod, and if desired, a pro camera body and lens up to 70-200mm or more. Other items can easily be clipped directly to the straps for hands-free transportation.
Specifications

Adjustment length: 24" (61cm)
Overall length: 20" (76cm)
Weight: 3.5 ounces (100 grams)
# # #
About Us
MindShift Gear (http://www.mindshiftgear.com) is a group of professional photographers and designers committed to conservation of our natural resources and global environment. Founded by the creators of Think Tank Photo and conservation photographer Daniel Beltrá, MindShift is dedicated to building carrying solutions for those who are passionate about experiencing the natural world. Their slogan, "Engage with nature," challenges people to not only become involved in outdoor activities, but to create a conversation about nature and our relationship to the environment."