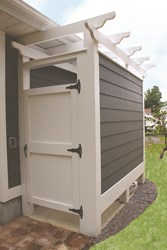 VERSATEX President John Pace called the new 2x trimboard 'a rapid response to feedback from the people in the field who have been working with the extra-thick 1½" PVC sheet we rolled out this spring.'
Pittsburgh, PA (PRWEB) October 08, 2013
Simplifying PVC fabrication for builders, mill shops and OEMs, VERSATEX has released easy-to-handle nominal 2x8", 2x10" and 2x12" board versions of the 1½"-thick VERSATEX MAX ™ extruded cellular PVC sheet. VERSATEX Trimboard brings the convenience of dimensional lumber to producers of laminated pergola beams, custom mouldings, corbels, spindles and other fabricated items.
In announcing the product launch, VERSATEX president John Pace called the new 2x trimboard, "a rapid response to feedback from the people in the field who have been working with the extra-thick 1½" PVC sheet we rolled out this spring."
While builders, millwork shops and OEMs have given the 48-inch-wide sheet high marks for stability and workability, Mr. Pace said, "for a lot of applications, the same thickness in a 8-inch, 10-inch and 12-inch width is easier to handle. Now fabricators will be able to save lamination steps and get the job done faster."
VERSATEX MAX 2x Trim is fully ¼" thicker than competing products, he added, "and it gives you the same tight cell structure, density, core consistency and dimensional tolerances you expect in everything from VERSATEX." He said the company's R&D team also took into account the needs of distributors across the U.S.A. who stock VERSATEX two-by products. Initially, VERSATEX MAX Trimboard will be sold in 18-foot lengths, smooth finish only.
VERSATEX MAX Trimboard is manufactured by Wolfpac Technologies of Pittsburgh, Pa., where state-of-the-art facilities produce cellular PVC extrusion products such as VERSATEX trimboards, sheet, bead board, moldings and prefabricated corners, and the innovative VERSATEX soffit system. For more information, visit http://www.versatex.com.