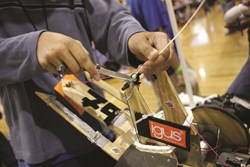 East Providence, Rhode Island (PRWEB) October 07, 2013
The 21st annual BEST™ Robotics competition has kicked off at hub locations across the country. This year marks igus' ninth season as a nationwide product sponsor in the event. This year's competition is underway, with regional semi-finals due to begin in November and December. BEST's 2013 "Gatekeeper" theme is aimed around students creating a new CPU for the original BEST Robot, Squeaky.
BEST (Boosting Engineering Science and Technology) Inc., a non-profit, volunteer organization, that aims to inspire middle and high school students to pursue careers in engineering, science and technology through participation in science and engineering-based robotics competitions. Students will get the chance to utilize igus Energy Chain®, DryLin® and igubal® products in their designs with help of more than 1,200 kits igus sent out through its Y.E.S. (Young engineer support) program prior to the event's kickoff.
For more information about the BEST Robotics competition, visit http://www.bestinc.org or Contact BEST Executive Director Tom Fitzmaurice via email at tomfitzmaurice(at)best(dot)org, or phone at 214-762-7621. To learn more about igus' Y.E.S. Program or to request free samples, visit http://www.igus.com/yesprogram, call 401-438-2200, or email yes(at)igus(dot)com.
About igus
igus® develops industry-leading Energy Chain® cable carriers, Chainflex® continuous-flex cables, DryLin® linear bearings and linear guides, iglide® plastic bushings, and igubal® spherical bearings. These seemingly unrelated products are linked together through a belief in making functionally advanced, yet affordable plastic components and assemblies. With plastic bearing experience since 1964, cable carrier experience since 1971 and continuous-flex cable since 1989, igus provides the right solution of over 80,000 products available in stock. No minimum order required. For more information, contact igus at 1-800-521-2747 or visit http://www.igus.com.