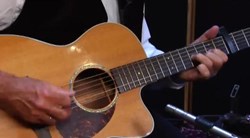 (PRWEB) October 07, 2013
Using a cutaway Martin acoustic guitar, Jimmy first points out that blues can be happy, upbeat Saturday night party music or dark, lamenting songs of sadness and loss. The latter seem best expressed in minor keys, which he demonstrates here. He begins the acoustic minor blues lesson with an A minor 7 chord in first position (open first string, first finger on first fret of the second string, open third string, second finger on second fret of the fourth string, open fifth string, open sixth string). He uses a combination of pick and fingers to play the individual strings. He then slides the fretted notes up two frets each while allowing the open strings to continue ringing out. Rocket scientists might call this chord an A minor 13sus4, but it's a lot easier to just think of it as an Am7 moved up two frets. You'll find similar ideas in the folkie instrumental "Anji" or Led Zeppelin's "Stairway to Heaven."
Next, Jimmy goes to a D minor chord, offering the choice to play it in open first position or closed fifth position. The closed position allows for stronger rhythms and dramatic stops, to which Jimmy even adds some flamenco flourishes. The progression continues to a beautiful first-position F major 7 chord, finishing with any variation of an E7 chord. The lesson, which comes from Jimmy's upcoming course called "The Ultimate Acoustic Blues," concludes with some ideas on how to embellish the progression using blues guitar techniques such as hammer-ons, pull-offs, strum variations and harmonics.
Start slowly and build up speed a little at a time. After learning the basics, players should try adding riffs of their own to develop their own personal style. Enjoy and learn more from Jimmy Dillon and all the teachers at Guitarcontrol.com in the free video guitar lessons in many styles at http://www.youtube.com/guitarcontrol.
GuitarControl.com, a leader in video music education, is the brainchild of Philadelphia guitarist Claude Johnson. Since 2004, it has offered online lessons and DVDs taught by virtuosos in styles ranging from rock, metal and blues to jazz, bluegrass, country and fingerstyle; as well as courses for vocals, drums, bass and keyboard; and music software, song collections and jam tracks.