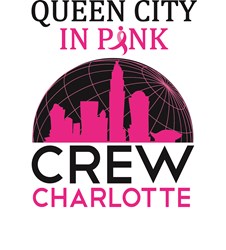 There are no words to describe the overwhelming feeling of support we have received from Charlotte businesses to make this happen
Charlotte, NC (PRWEB) October 09, 2013
During the first week of October, 166 Charlotte businesses turned their commercial real estate properties pink for CREW Charlotte's Fifth Annual breast cancer awareness campaign, Queen City in Pink (QCIP).
The QCIP initiative asked owners and tenants of Charlotte properties to illuminate their buildings with pink lighting, temporary pink fountain dye or other displays of pink including window ribbon decals, banners and flags. These efforts show support for the community's survivors of breast cancer and honor those who have been affected by or lost their lives to the disease.
"The amount of QCIP participants has doubled in two years! We went from 80 participants in 2011 to 166 in 2013. There are no words to describe the overwhelming feeling of support we have received from Charlotte businesses to make this happen. Almost everywhere you turn, there is pink, reminding breast cancer survivors and those who have lost a loved one, to stay vigilant in the fight for a breast cancer cure," said CREW Charlotte's Queen City in Pink co-chair Nicole Green, Jones Lang LaSalle.
CREW Charlotte partners with the Charlotte Affiliate of Susan G. Komen for the Cure to launch Queen City in Pink during the first week of October every year, the national Breast Cancer Awareness month across the US. The last day of QCIP always falls on Charlotte's Race for the Cure event on the first Saturday of the month so race participants get to see the skyline and race route lit up in pink during their 5k run.
"We are excited to continue our partnership with Susan G. Komen in order to bring awareness and promote vigilance in the fight against breast cancer. When you see our city 'pinked out' with lights and other decorations, know that CREW Charlotte was behind this effort and we had an amazing team help to make it happen!" said President of CREW Charlotte, Barbara Briccotto, INTEC Group, Inc.
For a full list of the businesses who participated in the 2013 Queen City in Pink, please visit http://www.CREWCharlotte.org.
About CREW
CREW Charlotte is a chapter of CREW Network (http://www.crewnetwork.org), whose mission is to influence the success of the commercial real estate industry by advancing the achievements of women. CREW does this by looking outward to bring more women into the industry, showcasing member successes and serving as a key resource to its members and the industry. CREW Network members represent all disciplines of commercial real estate — every type of expert required to "do the deal." CREW Network is a national organization with over 8,000 members and over 74 chapters across North America focused on promoting business, providing educational opportunities, and sharing information among members at local, regional, and national levels.